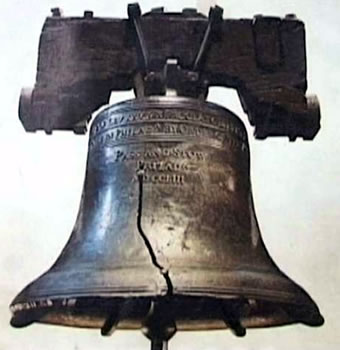 Liberty Bell
UTSA hosts panel discussion on U.S.A. Patriot Act
(Feb. 7, 2005)--The UTSA Graduate Political Science Association (GPSA), the Department of Political Science and Geography, and the Institute for Law and Public Affairs will host a panel discussion on the U.S.A. Patriot Act from noon to 2 p.m., Friday, Feb. 11 in the Main Building Auditorium (0.104) at the UTSA 1604 Campus. The event is free and open to the public.
Moderated by Richard Gambitta, chair of the Department of Political Science and Geography, the presentations and discussion on provisions of the Patriot Act will be followed by a question-and-answer session.
---
Today's headlines
Article tools
---
Panelists include Mark Roomberg, assistant U.S. attorney; Patrick Fylik, ACLU San Antonio vice president and attorney; Lino Graglia, UT Austin professor of law; Fernando Colon-Navarro, Texas Southern University Thurgood Marshall School of Law professor and assistant dean; Jeffery Addicott, director of the Center for Terrorism Law, St. Mary's University School of Law and Milo Colton, St. Mary's University professor of criminal justice and criminology.
According to a summary by Charles Doyle, senior specialist of the American Law Division of the Library of Congress Congressional Research Service, Congress passed the U.S.A. Patriot Act in response to the terrorists' attacks of September 11, 2001. The act gives federal officials greater authority to track and intercept communications, both for law enforcement and foreign intelligence gathering purposes.
It vests the Secretary of the Treasury with regulatory powers to combat corruption of U.S. financial institutions for foreign money laundering purposes. It seeks to further close our borders to foreign terrorists and to detain and remove those within our borders. It creates new crimes, new penalties and new procedural efficiencies for use against domestic and international terrorists.
Although it is not without safeguards, critics contend some of its provisions go too far. Although it grants many of the enhancements sought by the Department of Justice, others are concerned that it does not go far enough.
The act originated in the House and the Senate and was passed by both entities Oct. 11, 2001. After amendments, it was approved by Congress on Oct. 24 and signed by President Bush on Oct. 26.
For more information, contact James Zamarron, GPSA, at (512) 413-6080.