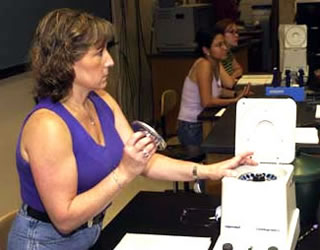 Students in experimental biology lab taught by Robert Rivas
Research funding increases 13 percent to $34 million
(Feb. 28, 2005)--The University of Texas at San Antonio received $34.4 million in sponsored program awards in fiscal year 2004 -- $4.2 million or 13 percent higher than the previous year.
Included in the $34 million are grants from the Department of Homeland Security, Department of Education, Air Force Office of Scientific Research, National Science Foundation and National Institutes of Health (NIH) as well as public and private grants from foundations and state agencies.
---
Today's headlines
Article tools
---
In fiscal year 2004, NIH funding alone provided more than $8.7 million for 26 research or instructional grant projects.
"External support is crucial for UTSA to continue its mission to be a leader in research and service in the San Antonio community," said UTSA President Ricardo Romo. "As one of the next premier research universities serving Texas, UTSA is committed to academic excellence and the creation of new knowledge to improve everyone's lives."
Some examples of the types of funded research projects underway at UTSA include assisting communities to develop and conduct their own cyber-security exercises and preparing teachers to assist with the critical shortage of middle and high school mathematics and science teachers.
Additionally, UTSA researchers assisted the City of San Antonio in studying how to remove lead-contaminated soils from low-income houses built before 1978.
Last year, the UTSA Office of Research Development worked with faculty and administrators to seek funding for 454 proposals, an increase of nearly 20 percent over the previous year.