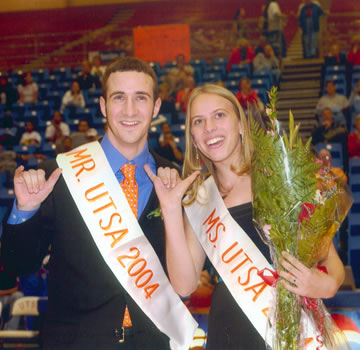 Mr. and Ms. UTSA 2004, Stephen Cheney and Becky Bromley
Students vote online for Mr. and Ms. UTSA 2005
(Feb. 22, 2005)--As part of the UTSA Homecoming 2005 celebration, the Student Alumni Association and the Alumni Association are sponsoring the annual Mr. and Ms. UTSA contest, which honors students who embody the spirit of UTSA.
The winners will be decided by an online vote by students Tuesday, Feb. 22 and Wednesday, Feb. 23. Voting is online through the ASAP information system. Students can log on at any UTSA computer kiosk, UTSA computer labs or at home. Voters must be enrolled at UTSA for the spring 2005 semester.
---
Today's headlines
Article tools
---
Candidates for the awards must be nominated by a UTSA student organization or two faculty or staff members. Finalists were selected by a panel of alumni, faculty and staff, and were evaluated on the basis of their academic achievement, campus involvement and community service.
To view the biographies of the candidates, go to the Alumni Association Web site.
Winners will be announced during halftime at the men's basketball game in the Convocation Center Saturday, Feb. 26. The winners will receive 14k-gold official UTSA rings; runners-up receive a cash award.
For more information, contact Stephanie Miller at (210) 458-4133.
------------------------------
How to vote
From ASAP, login, click on "Personal Information."
Click on"Answer a Survey."
Click on "2005 Mr. and Ms. UTSA Voting."
Vote for Mr. UTSA.
Click on "Next Question" to vote for Ms. UTSA. (If you click on "Survey Complete" before you have voted for Ms. UTSA, you will not be able to reenter ASAP and access the survey.)
Click on "Survey Complete" to submit your votes.