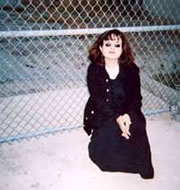 Catherine Kasper and Wendy Barker
UTSA faculty read from new books Feb. 25, March 6
(Feb. 24, 2005)--Catherine Kasper, UTSA assistant professor of English, and Wendy Barker, UTSA professor of English, will read from their new books from 5 to 7 p.m., Friday, Feb. 25 at the Twig Book Shop, 5005 Broadway, and at 2 p.m., Sunday, March 6 at the Barnes and Noble bookstore, DeZavala at Interstate 10.
"Field Stone," Kasper's first full-length collection, is the winner of the Winnow Press First Book Award. The book has been praised as being meticulous, eloquent and riveting. Her chapbook, "A Gradual Disappearance of Insects," will be published next winter by Pecan Grove Press.
---
Today's headlines
Article tools
---
Kasper has received a number of awards, including the Academy of American Poets Prize, the PEN-Texas Award, a Writer's League of Texas Fellowship, the Mid-American Review Fineline Award and the Charles Goodnow Award.
She has published poems, short stories and essays in journals such as Chicago Review, Conjunctions, The Literary Review, The Ohio Review, Seneca Review and Borderlands.
"Poems from Paradise" is Barker's fourth full-length collection of poetry. "Poignantly hushed," "deft and tender," according to writer Sandra Gilbert, the poems have been praised by poet Ruth Stone as "possibly the most sensuous and erotic love poems I have ever read. Their movement is like Debussy's Le Mer, inevitable, exquisite."
Barker's honors include an NEA Fellowship, a Rockefeller Foundation Fellowship in Bellagio, the Mary Elinore Smith Poetry Prize from The American Scholar, the Sourette Diehl Fraser Award for Translation from the Texas Institute of Letters and the Violet Crown Award from the Writer's League of Texas.
Her poems and translations have appeared in numerous journals including Poetry, Kenyon Review, Nimrod, Ontario Review, New York Quarterly and North American Review.
For more information, contact Wendy Barker at (210) 458-5362.