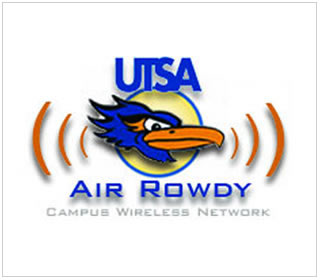 UTSA activates more AirRowdy wireless hot spots
(March 15, 2005)--UTSA entered a new age of computing power nearly a year ago when the Main Building opened at the 1604 Campus and the first wireless hot spot became available to students, faculty and staff members with wireless-capable PCs.
Hot spots are areas where a broadcast signal provides a connection to a computer network without a phone line or cable modem.
The UTSA AirRowdy wi-fi (wireless fidelity) network continues to spread across the UTSA community. AirRowdy, named after the university mascot, allows UTSA users with laptop PCs to surf the Internet, log on to the university Web site and search the library catalog.
---
Today's headlines
Article tools
---
To make the new technology more apparent, the UTSA Office of Information Technology is placing identifying stickers at the entrances of buildings with active hot spots (see graphic above) and freestanding signs of the same design at exterior areas that have gone live.
At the 1604 Campus, there are active hot spots at the Main Building, John Peace Library (JPL) Building first-third floors, Sombrilla Plaza, Business Building, Humanities and Social Sciences Building, Multidisciplinary Studies (MS) Building first and second floors, Science Building, University Center (including exterior areas between the U.C. and Convocation Center) and the Recreation and Wellness Center. At the Downtown Campus, the Frio Street Building commons is live. Additionally, power outlets will be installed in the JPL food court where students often use laptops.
Coming up for activation at the 1604 Campus are the remainder of the MS Building (late March), Arts Building (May), Engineering Building (August) and Biosciences Building (October). The remainder of the Downtown Campus will be live by January 2006 and the Convocation Center and Institute of Texan Cultures by June 2006. As new UTSA buildings open, wi-fi network activation will be automatic because the wiring will be part of their infrastructure.
But, as more and more hot spots go up, you won't see the antennae that broadcast the network signal, according to Charlotte Colbert, director of technology support services.
"We don't want any antennae to be visible," said Colbert. "Every attempt is being made to hide them and blend them into the environment by disguising them with a building or background color."
In order to access most services such as the ASAP student information system, students can log on to the AirRowdy network using their student computing lab user ID and password. Faculty and staff can use their UTSA network user ID and password.
Faculty and staff members who want to access systems or computer applications not available via the Web must install the UTSA VPN client on their laptops.
Users who are not UTSA students or faculty/staff members can access only the UTSA and UTSA Library Web sites. For more extensive access, guests must complete an access form and have the department they are visiting submit the form to the Help Desk to have a new account created.
Wireless users need a laptop PC with an installed Network Interface Card (NIC) that supports the 802.11g wireless protocols as well as a Java-enabled Web browser such as Microsoft Internet Explorer or Netscape.
For more information, contact Charlotte Colbert at (210) 458-5886.