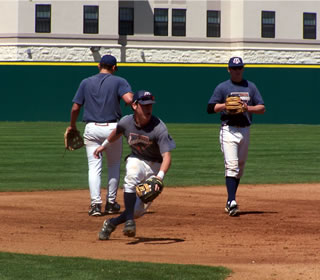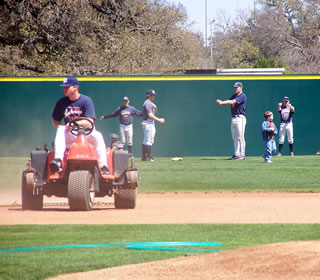 Top photo: UTSA players Brandon Koger, Eric Moreno and
Ryan Saltzgaber take ground balls at third base during Thursday's
practice. Lower photo: Assistant Coach Jim Blair gets the
infield ready while the team stretches in the outfield.
Roadrunner baseball moves home games to UTSA 1604 Campus
(March 17, 2005)--Fresh-cut grass and a flash of leather... spring is almost here and Roadrunner baseball is coming home.
UTSA announced this week that the baseball team is moving the next five home games, previously scheduled for Wolff Stadium, to Roadrunner Field on the 1604 Campus.
---
Today's headlines
Article tools
---
The move makes Roadrunner Field, affectionately nicknamed "The Bird Bath," the location for the rest of the season's home contests.
Only one game time has changed as a result of the move with the Friday, March 18 contest against Louisiana-Monroe moved to 3 p.m.
Roadrunner Field is located on West Campus between the intramural field and Chaparral Village. Tickets are $5 for adults and $3 for children. UTSA students are admitted free with a valid UTSACard.
For more information, call (210) 458-8872 or visit www.GoUTSA.com. A schedule of home games follows. All games are at Roadrunner Field.
Roadrunner Baseball Schedule (Home Games)
| | | |
| --- | --- | --- |
| March 18 | Louisiana-Monroe* | 3 p.m. |
| March 19 | Louisiana-Monroe* | 2 p.m. |
| March 20 | Louisiana-Monroe* | 1 p.m. |
| March 26 | Texas State* | 2 p.m. |
| March 27 | Texas State* | 1 p.m. |
| March 29 | Texas-Pan American | 2 p.m. |
| March 30 | Texas-Pan American | 2 p.m. |
| April 5 | Angelo State | 2 p.m. |
| April 15 | Texas-Arlington* | 3 p.m. |
| April 16 | Texas-Arlington* | 2 p.m. |
| April 17 | Texas-Arlington* | 1 p.m. |
| April 22 | Southeastern Louisiana* | 3 p.m. |
| April 23 | Southeastern Louisiana* | 2 p.m. |
| April 24 | Southeastern Louisiana* | 1 p.m. |
| May 13 | Lamar* | 3 p.m. |
| May 14 | Lamar* | 2 p.m. |
| May 15 | Lamar* | 1 p.m. |
*denotes Southland Conference game