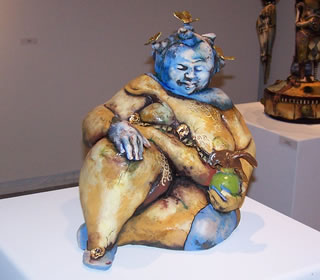 Photos by Tim Brownlee
UTSA art department presents 'State of Texas -- Clay' exhibit through March 31
(March 4, 2005)--The UTSA Department of Art and Art History hosts the ceramics exhibition, "State of Texas -- Clay," at the UTSA Arts Building gallery at the 1604 Campus through March 31. The exhibit is free and open to the public.
---
Today's headlines
Article tools
---
The exhibit honors retiring art and art history professor Steve Reynolds, who has been a ceramics professor at UTSA for 27 years.
Thirty-six of the region's most well-known and influential clay artists are featured in the exhibit, including Sara Waters, Susan Budge, Catherine Lee, Ron Boling, Claudia Reese, Nancy Pawel, Janet Kastner and Steve Reynolds. Both functional and sculptural works are in the exhibit.
Pictured are (from top) "Poppies" (clay tile, glazes and decals) by Steve Reynolds, "Tooky Bird" and "Rat God" (raku-fired clay) by Billy Ray Maugham, "Red and Yellow" (striped platter) by Daphne Roehr Hatcher and "Reflection" (terra cotta earthenware) by James Tisdale.
All artwork is for sale with proceeds benefiting a scholarship fund for UTSA ceramics students.
Gallery hours are 10 a.m.- 4 p.m., Monday-Friday, and 2- 4 p.m., Sunday.
For more information, contact the Department of Art and Art History at (210) 458-4352.