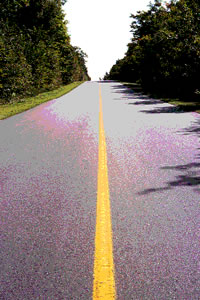 UTSA students plan car marketing campaign
(March 23, 2005)--This spring, 30 UTSA marketing students are putting their education to work in the real world with a prestige client. Their class project will give the UTSA community a chance to examine Chevrolet's new, premium compact car, the Cobalt, at "Cruisin' in a Cobalt" from 10 a.m. to 4 p.m., Wednesday, March 30 at Sombrilla Plaza on the UTSA 1604 Campus.
Hosted by graduate students in a marketing management class taught by Tina Lowrey, UTSA associate professor of marketing, the beach party themed event includes free food, entertainment and prizes.
---
Today's headlines
Article tools
---
As part of the Chevrolet Marketing Internship Program, the event is the culmination of a semester-long project sponsored by Chevrolet at 25 universities to market the new car to college students.
"The program serves as a unique opportunity for students to develop public speaking and presentation skills in addition to building self-confidence," said UTSA graduate student Jenna Maxim. "Today's college students often have a difficult time finding a job due to their inexperience. The Chevrolet program helps provide students with valuable hands-on experiential learning necessary to find employment."
Over nine weeks, the students created a marketing agency responsible for researching, implementing and evaluating an integrated marketing campaign for their client, Chevrolet. Utilizing a $2,500 budget provided by the car manufacturer, the students organized the agency, researched the target market and developed marketing and communication strategies to increase college students' awareness of the brand and product. After presenting the concept to Chevrolet executives, the students began the campaign, tracking and analyzing the results.
To see the car models that are part of the UTSA students' campaign, visit the Chevrolet Cobalt Web site and select the "Coupe" link.
For more information, contact Jenna Maxim between 7:30 a.m. and 4:30 p.m., Monday-Friday, at (210) 345-2875.