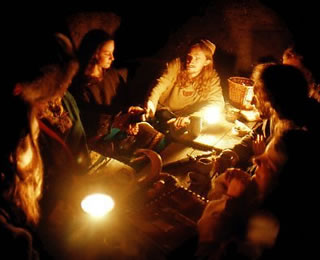 Storytelling
UTSA cosponsors March 5 storytelling festival
(March 4, 2005)--The UTSA Department of Interdisciplinary Learning and Teaching and the Academy for Teacher Excellence host the first annual Storytelling Festival from 9 a.m. to noon, Saturday, March 5 in Frio Street Building Room 1.406 at the Downtown Campus. The festival is free and open to the public.
The event will feature professional storytellers and workshops with a range of topics including how to tell stories, the use of traditional and digital storytelling in the classroom, and how to launch storytelling festivals in schools.
The event is cosponsored by the UTSA Office of the President, the UTSA Alumni Association, Scholastic Book Fairs and officers of the UTSA Student Reading Association.
For more information, contact the Academy for Teacher Excellence at (210) 458-6175.
------------------------------
Storytelling presentations will include:
Storytelling and Cross Cultural Communities, Lorece Williams, retired professor, Our Lady of the Lake University School of Social Work
Kids Can Tell: Empowering Children with the Art of Storytelling, Sue Kuentz, teacher and sponsor of the Stone Oak Storytelling Club, Stone Oak Elementary School
Telling Stories with Puppets, Felice Feldman, librarian, Castle Hills Elementary School
Secrets for Successful Storytelling, Mary Grace Ketner, educational specialist, Institute of Texan Cultures
Creepy Creatures and Other Cucuys, Xavier Garza, author, illustrator and storyteller
Weaving Stories into Math, Kit Myers, professional storyteller, Twisted Truths.com
Storytelling as an Art, Sallyanne Holtz, instructor, UTSA Department of Communication
Digital Storytelling: Seeing Voice, Claudia Maceo Sharp, teacher, Oak Grove Elementary
Planning a School Storytelling Festival, Beth Dewey, reading specialist and Storytelling Festival coordinator, Fabra Elementary School
Stories to Inform, Educate and Entertain, Earley B. Teal, storyteller, retired professor, Our Lady of the Lake University School of Social Work, president of Buffalo Soldiers