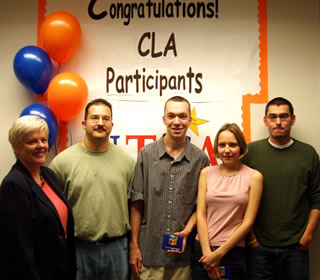 Prize winners
UTSA students win awards by participating in study
(March 30, 2005)--This semester, 300 graduating seniors were contacted to participate in the Collegiate Learning Assessment Study (CLAS). The first 100 students who participate receive $30 and are eligible for an award drawing. Drawings are being held for participants throughout the study.
Because there are less than 20 openings left in the study that ends April 17, graduating seniors should check their e-mail or phone messages to be sure they are not skipping an invitation to participate.
---
Today's headlines
Article tools
---
Students who received a message should call Testing Services at (210) 458-4125 (1604 Campus) or (210) 458-2941 (Downtown Campus) -- before the prizes run out.
Pictured from left to right, Sandra Welch, UTSA vice provost for academic compliance and institutional research, congratulates winners of the first drawing: David Kee (winner of a $200 Visa gift card), Cory Gallagher (winner of a $100 Visa gift card), Karyna Soldatova (winner of a $200 Visa gift card), and Steven Cordero (winner of a $400 Best Buy gift card).
Prizes in the drawings include a Dell laptop computer, gift cards ranging from $100 to $400 and iPods with music cards. Two laptops will be handed to the top two performers in the study. The 90-minute study is being administered several times each week by the Office of Testing Services in conjunction with the Office of the Vice Provost for Academic Compliance and Institutional Research.
CLAS assesses students' acquisition and retention of core course work. In the study, UTSA student performance will be compared to students throughout the UT System.