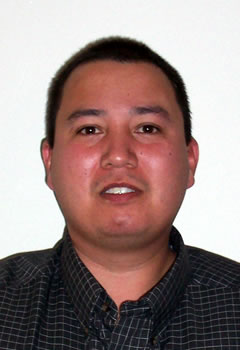 Robert Trujillo
UTSA Spotlight: UTSA-TAMU research fellow represents New Mexico at San Antonio conference
(March 9, 2005)--Robert Trujillo, a research fellow in the Hispanic Leadership Program in Agriculture and Natural Resources (HLPANR), was selected by the New Mexico School Board Association to represent New Mexico at the "Celebrating Educational Opportunities for Hispanic Students Conference" March 4-6 in San Antonio.
---
Today's headlines
Article tools
---
Trujillo, a doctoral student in wildlife and fisheries sciences at Texas A&M University, is in his third year as a research fellow at HLPANR, a joint program of the UTSA Culture and Policy Institute, the Texas Agricultural Experiment Station in College Station and the USDA Forest Service.
HLPANR, which has its central office at UTSA, is a leadership program for master's and doctoral students in agriculture, natural resources, environmental sciences and related fields such as political science, public administration and sociology. Program fellows hone their skills in leadership, policy and research areas, and work with Hispanic communities to identify common areas of interest and concern.
At the conference, Trujillo participated in a student panel discussion with representatives from Arizona, California and Texas.
"Robert is a highly capable young scholar who holds a deep respect for nature, biological diversity and sustainable approaches to natural resource management," said Ruben Martinez, HLPANR program coordinator. "His involvement at the conference serves to inspire other Latino students to achieve academically, to take an interest in our natural resources and to keep them mindful of their cultural roots and their communities."
For more information, contact Raymond Garza, HLPANR principal investigator, at (210) 458-2972.