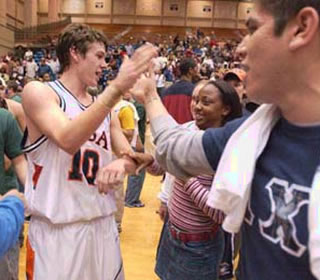 Kurt Attaway with UTSA fans
UTSA's Kurt Attaway named Southland Conference Men's Student-Athlete of the Year
(April 20, 2005)--Led by UTSA guard Kurt Attaway as student-athlete of the year, five Southland Conference men's basketball players have been tabbed to the league's 2005 all-academic team.
Five universities are represented on the team with Lamar University's Jason Grant, last year's student-athlete of the year -- a repeat selection to the squad. Also selected all-academic are Texas State University's Zach Allison, University of Texas at Arlington's Brady Dawkins and Nicholls State University's Jason Wilkins.
---
Today's headlines
Article tools
---
Attaway, the 2004 SLC Freshman of the Year who started all 33 games last season, battled injury problems during his second season while appearing in 19 games. The sophomore from Flower Mound, Texas, came off the injured list to tie his career high with eight assists against Lamar and also had 12 points against Northwestern State. Despite missing nine games, he ranked third on the team in assists (55).
In the classroom, Attaway has posted a perfect 4.0 grade point average in his psychology major and has been on the Dean's List all three semesters at UTSA.
In extracurricular activities, Attaway participates in include the Fellowship of Christian Athletes and Student Leader groups. He is a student representative for the UTSA Campus Life Initiative, was a volunteer coach at the NCAA Basketball YES Clinic in 2004 and has done several speaking engagements at elementary schools and children's hospitals.
Grant led Lamar and ranked fourth in the SLC in blocked shots (42) this year. The junior from Toronto, Canada, who has a 3.51 GPA in kinesiology, was fourth on the team in rebounding. He scored a season-high 16 points versus Nicholls and tied a career high with 13 rebounds versus Rice. Grant ranks second all-time in school history in blocked shots with 165. A 2005 CoSIDA Academic All-District VI selection, Grant averaged 4.8 points and 4.6 rebounds this season.
Texas State's Zach Allison started 22 games, including the last 12 of the year, as a senior. The forward from Carthage, Texas, averaged 8.8 points and 5.4 rebounds per contest. He shot 47.7 percent from the field and was also a threat from outside, knocking down 20-of-60 three-point attempts. Allison was one of the Bobcats' leading free-throw shooters, making 76.3 percent of his shots from the line. The 3.13 exercise and sports science major had a pair of double-doubles during the year.
Dawkins' Southland honor comes after he was named a UTA scholar-athlete in the fall of 2002 and spring and fall of both 2003 and 2004. On the court, the Whitehouse, Texas, standout averaged 6.4 points and 3.9 assists for the Mavericks this season. Last year, the 3.31 communication technology major ranked second in the SLC in 3-point field goal percentage.
Wilkins started all 27 games for the Colonels, leading them in 3-point field goal percentage (32.5). He led the team in points on seven different occasions, recorded six double-doubles and scored in double digits in 18 of the 27 games. The Evadale, Texas, student averaged 10.4 points, 5.1 rebounds and 1.4 assists during his senior season. Wilkins is a 3.10 computer information systems major.
------------------------------
2005 Southland Conference Men's Basketball All-Academic Team
(listing of student, university, class, position, GPA, major, hometown)
Zach Allison, Texas State, senior, F, 3.13, exercise and sports science, Carthage, Texas
Kurt Attaway, Texas-San Antonio, sophomore, G, 4.00, psychology, Flower Mound, Texas (2005 Student-Athlete of the Year)
Brady Dawkins, Texas-Arlington, junior, G, 3.31, communication technology, Whitehouse, Texas
Jason Grant, Lamar, junior, C, 3.51, kinesiology, Toronto, Canada
Jason Wilkins, Nicholls State, senior, F, 3.10, computer information systems, Evadale, Texas