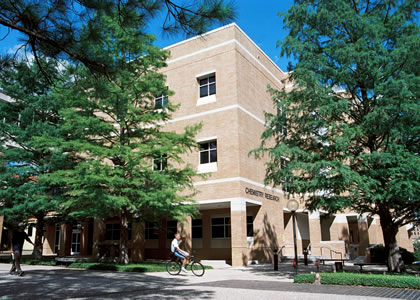 W.A. Baker Chemistry Research Building, UTA
UTA names building in honor of UTSA dean
(April 22, 2005)--The University of Texas at Arlington (UTA) College of Science renamed the Chemistry Research Building the W.A. Baker Chemistry Research Building at an April 19 ceremony.
The 55,000-square-foot science building is named for W.A. Baker Jr., interim dean of The University of Texas at San Antonio College of Sciences and former UTA vice president for academic affairs (1973-1993), dean of the graduate school (1971-1973) and chemistry professor (1993-1995).
---
Today's headlines
Article tools
---
During Baker's tenure as UTA vice president, the university added 49 degree programs and established the School of Architecture and Environmental Design, the Automation and Robotics Research Institute, the School of Nursing and the Center for Professional Teacher Education.
Baker also was involved in many community activities. He served on the steering committee for Leadership Fort Worth and Leadership Arlington and the boards of directors for the Arlington Boys and Girls Clubs, River Legacy Foundation and Arlington Fine Arts Council. He worked with the Tarrant County United Way and the American Heart Association at local and state levels.
W.A. Baker Jr.
At the end of his one-year appointment at UTSA, he will retire for a second time and return to his home in Keller, Texas.
"We are fortunate at UTSA to have a person of Dr. Baker's caliber serving as interim dean of the College of Sciences, as we move forward with a national search," said Guy Bailey, UTSA provost and executive vice president. "We appreciate his experience and hard work, and the fact that he has taken a hiatus from a well-earned retirement to help UTSA move forward."
The Chemistry Research Building opened in March 1996. The four-story building houses research facilities for a dozen chemistry faculty members and their graduate students, teaching laboratories and an amphitheater. Its labs are equipped with ventilation systems designed to accommodate the needs of synthetic, organic, inorganic and polymer research programs.