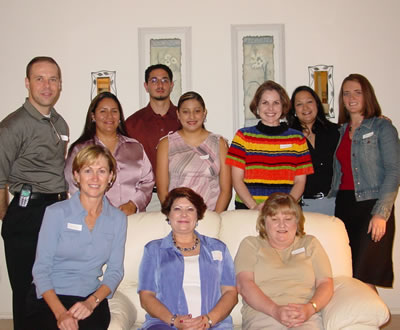 UTSA Birdfeeders dinner participants
UTSA students nest at April 17 Birdfeeders dinner
(April 11, 2005)--UTSA students can feed their curiosity about the world of nonprofit management during the Birdfeeders dinner, hosted by alumna Linda Green Schubert, at 6:30 p.m, Sunday, April 17.
Birdfeers is an award-winning program created by the UTSA Student Alumni Association in which alumni volunteers host small, casual dinner parties for eight to 12 UTSA students who have similar interests.
---
Today's headlines
Article tools
---
Schubert, who earned a UTSA B.F.A. degree in studio art, is the director of a local nonprofit organization, Stonemetal Press, which provides low-cost printmaking facilities for local and visiting artists. Currently, she is working on certification in nonprofit management.
The Birdfeeders dinner tradition started in 1998. Modeled after similar groups at Arizona State University and UCLA, it was created to encourage relationships between UTSA students and alumni. The name of the program honors Rowdy, UTSA's Roadrunner mascot.
The dinner-party setting gives students an opportunity to network and develop new friendships. Students from the dinner's targeted field can attend the dinner on a first come, first serve basis.
The registration deadline for the dinner is April 13. Download a registration form (Word document).
For more information, contact Stephanie Miller, UTSA Office of Alumni Programs, at (210) 458-7228.