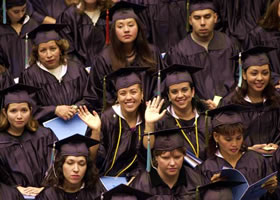 UTSA Spring 2005 Commencement Information
(April 29, 2005)--The UTSA Administration Planning Committee Graduation Task Force announced the dates and times for the Spring 2005 UTSA Commencement ceremonies.
See the schedule listed below. Ceremonies are in the UTSA Convocation Center, 1604 Campus, unless indicated otherwise.
Visit the Commencement Web site for details.
For more information, contact Pat Graham at 210-458-6110.
---
Today's headlines
Article tools
---
------------------------------
UTSA Commencement Ceremonies, May 2005
Ceremony 1: Friday, May 13, 5 p.m.
College of Liberal and Fine Arts
School of Architecture
Speaker: Lionel Sosa, Sosa Consultation and Design
Ceremony 2: Saturday, May 14, 9 a.m.
College of Education and Human Development
College of Public Policy
Speaker: Raymund A. Paredes, Commissioner of Higher Education
Ceremony 3: Saturday, May 14, 1 p.m.
College of Business
Speaker: J. Dan Bates, President, Southwest Research Institute
Ceremony 4: Saturday, May 14, 5 p.m.
College of Engineering
College of Sciences
Speaker: Hope Andrade, Commissioner, Texas Department of Transportation
------------------------------
Special Ceremonies
Honors College Graduation Ceremony
Friday, May 13, 2 p.m., Main Building Auditorium (0.104), 1604 Campus
Speaker: J. Aaron Cassill, Chair, UTSA Department of Biology
La Despedida Graduation Ceremony
Friday, May 13, 8-11 p.m., Buena Vista Theatre (1.326), Buena Vista Street Building, Downtown Campus
La Despedida, which means "farewell," stands more on soul than ceremony. The 10th annual graduation event celebrates the educational accomplishments of Latino students graduating from UTSA. Conducted in both English and Spanish, La Despedida is steeped in San Antonio culture with a fajita dinner, mariachis and live music by Monica y Grupo Fuerte. La Despedida was created in 1996 to foster awareness of the impact cultural background has on education at UTSA.