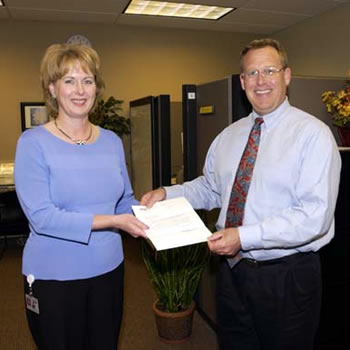 Valerie Thornberry (left) receives notification of her award from
Steven Levitt, chair of the Department of Communication.
Extra Mile Award: Valerie Thornberry
(April 22, 2005)--Valerie Thornberry, administrative associate in the UTSA Department of Communication, will be honored with the Extra Mile Award, one of five presented April 28 at the UTSA Staff Excellence and Service Awards ceremony.
In the fourth of five award spotlights that will be featured on UTSA Today before the ceremony, the Extra Mile Award recognizes an individual with at least three years continuous service with UTSA and who has aided the success of UTSA through his or her outstanding contributions at work. This person demonstrates extra efforts in their accomplishments, timeliness, follow-through and willingness to help fellow employees. He or she provides excellent customer service with creativity, dedication, cooperation and reliability. He or she has performed above and beyond normal job requirements resulting in furthering the department's and UTSA's goals and mission.
---
Today's headlines
Article tools
---
The five Staff Excellence Awards recognize excellent work performance in emerging leadership, dynamic leadership, teamwork, extraordinary initiative and overall excellence. The awards are: Rising Star Award, Leadership Award, Team Spirit Award, Extra Mile Award and Order of the Roadrunner Award. One hundred nominations were submitted; one hundred twenty-three employees were nominated.
------------------------------
Valerie Thornberry
Extra Mile Award winner
The title "administrative associate" does not do justice to Valerie Thornberry. How about "ultimate professional?" In more than 10 years of employment at UTSA, she has consistently gone above and beyond expectations.
Her positive attitude and caring personality are appreciated by her department colleagues. Students visiting the Department of Communication often comment on her cheerful demeanor and helpful nature that create a friendly environment. Faculty and staff members are careful not to ask for her help at lunch time, because they know she will stop eating her lunch to help a co-worker in need.
Thornberry continually amazes department staff with her ability to complete any task that crosses her desk, regardless of the deadline. She is quick to respond to inquiries from faculty members, always staying on top of university policies and procedures. She provides organizational support for communication student organizations and key department functions as well.
But a glowing personality is just the surface -- Thornberry's dedication to her job runs deep. She frequently arrives early and stays late. When the department moved to the Main Building, Thornberry came in on weekends to help paint the office and decorate with items she purchased with her own money. When she was selected for a weeklong jury duty stint, Thornberry came in evenings and weekends to complete the fall schedule by the deadline.
Students, faculty, administrators and guests see a very positive picture of UTSA when they deal with Valerie Thornberry. Her positive attitude, professionalism and pleasant personality are invaluable to the UTSA community.
------------------------------
UTSA employees are invited to attend the event hosted by Guy Bailey, provost and executive vice president, Rosalie Ambrosino, vice president for student affairs, and Richard Lewis, special assistant to the president, at 2:30 p.m., Thursday, April 28, in the University Center Retama Auditorium (2.01.02) on the 1604 Campus. The ceremony will include remarks by President Ricardo Romo.
Downtown Campus and Institute of Texan Cultures staff members can attend the event utilizing VIA bus 94 at no charge by showing their UTSACard.
The ceremony will include retiree recognition, service pin awards for 5-30 years and refreshments. Thirty-three staff members will be honored on their retirements and 219 staff members will receive UT System service awards for the 2004 calendar year.
Watch UTSA Today for the profile of the winner of the Order of the Roadrunner Award.