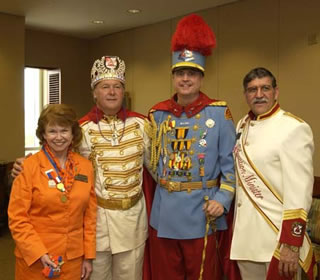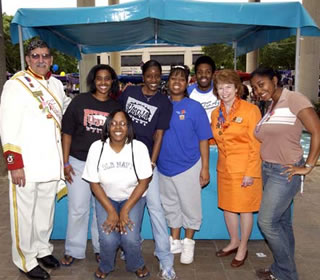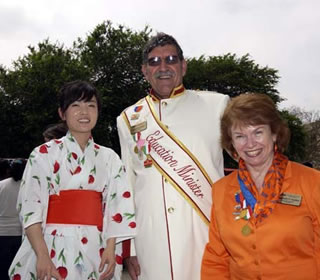 Fiesta UTSA 2005 (Photos: Patrick Ray Dunn)
San Antonio Fiesta royalty come to Fiesta UTSA
(April 18, 2005)--The UTSA Campus Activities Board hosted the annual spring festival, Fiesta UTSA, Friday at Sombrilla Plaza on the 1604 Campus with the theme "Carnival de Colores."
---
Today's headlines
Article tools
---
King Antonio, Rey Feo, Fiesta queens and other Fiesta royalty helped ring in Fiesta San Antonio at UTSA. Fiesta is a 10-day, city-wide, fun-filled, multicultural celebration. With more than 100 events, it is the biggest party and greatest community benefit in the state of Texas.
At Fiesta UTSA, more than 50 UTSA student organizations sold food and beverages with proceeds benefiting the groups. As the largest fund-raising opportunity of the year, the organizations count on Fiesta UTSA sales for their annual operating expenses.
Pictured are (top) Dr. Harriett Romo, Rey Feo LVII (Robert D. Tips), King Antonio LXXXIII (Clif Douglass),and UTSA President Ricardo Romo, who was named Fiesta Education Minister; (second photo) the Romos with students at a food booth; (third photo) the Romos with members of the student organization UMOJA and (bottom photo) the Romos with a member of the UTSA Japanese American Student Association.
Other Fiesta San Antonio participants with a UTSA connection are Miss San Antonio 2005, Elysia Petru, an official Fiesta queen in 2004, and Miss Fiesta San Antonio 2005, Erica Gonzaba.
Petru completed her bachelor's degree at the Lorenzo de Medici School of Art and Santa Reparata Art Institute in Florence, Italy, and is now a UTSA graduate student in art history.
Gonzaba is a UTSA sophomore in biology and pre-med. Her previous titles are Junior Miss Recreation and Miss Recreation for the San Antonio Parks and Recreation Department.