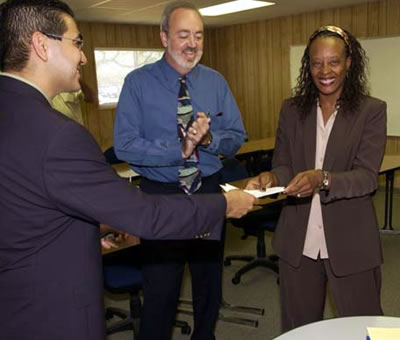 David Diaz, associate director of employee relations, (left) presents a letter from
President Romo congratulating Cassandra Porter for winning the Leadership Award,
as Gary Lott, business manager, looks on.
Leadership Award: Cassandra Porter
(April 20, 2005)--Cassandra Porter, UTSA inventory department manager, will be honored with the Leadership Award, one of five presented April 28 at the UTSA Staff Excellence and Service Awards ceremony.
In the second of five award spotlights that will be featured on UTSA Today, the Leadership Award recognizes a supervisory staff member who has promoted department and university goals through actions and job performance, demonstrated exceptional leadership ability, fostered a positive and motivating work environment, maintained open communication within the department and throughout UTSA, encouraged professional development, demonstrated fairness in resolving work-related issues and receptivity to feedback regarding personal job performance.
---
Today's headlines
Article tools
---
The five Staff Excellence Awards recognize excellent work performance in emerging leadership, dynamic leadership, teamwork, extraordinary initiative and overall excellence. The awards are: Rising Star Award, Leadership Award, Team Spirit Award, Extra Mile Award and Order of the Roadrunner Award. One hundred nominations were submitted; one hundred twenty-three employees were nominated.
------------------------------
Cassandra Porter
Leadership Award winner
As supervisor of the inventory department, Cassandra Porter has produced outstanding results in the accountability and reporting of movable assets at UTSA. Strong organizational, communication and management skills and the implementation of effective training classes for inventory contact persons have helped her department reduce UTSA inventory loss to less than 1 percent.
Porter is dedicated to improving her managerial ability. She regularly attends supervisor training and self-development classes offered by UTSA and other organizations, sharing her newly learned skills and management techniques with department staff. She has worked hard to improve visibility and communication between her department and other offices. Under Porter's leadership, inventory staff members make the most of every interaction.
Porter works with each employee to establish mutual goals and enhance their career development. According to a nominator, she solicits participation from her staff and is open to new ideas and feedback. A considerate, morale-boosting supervisor, she is sure to remember birthdays with greeting cards, balloons and cake. For the holidays, she plans potluck lunches for the inventory and surplus departments. She takes time to call department members on sick leave to let them know they are missed.
Porter's exceptional management and communication abilities personify the Office of the Vice President for Business Affairs motto, "In all we do, we do with excellence."
------------------------------
UTSA employees are invited to attend the event hosted by Guy Bailey, UTSA provost and executive vice president, Rosalie Ambrosino, UTSA vice president for student affairs, and Richard Lewis, special assistant to the president, at 2:30 p.m., Thursday, April 28, in the University Center Retama Auditorium (2.01.02) on the 1604 Campus. The ceremony will include remarks by UTSA President Ricardo Romo.
Downtown Campus and Institute of Texan Cultures staff members can attend the event utilizing VIA bus 94 at no charge by showing their UTSACard.
The ceremony will include retiree recognition, service pin awards for 5-30 years and refreshments. Thirty-three staff members will be honored on their retirements and 219 staff members will receive UT System service awards for the 2004 calendar year.
Watch UTSA Today for profiles of the winners of the Team Spirit Award, Extra Mile Award and Order of the Roadrunner Award.