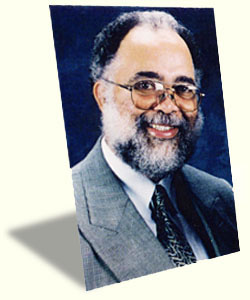 John Rickford
View video of John Rickford's "How I Write
Conversation" (59 min.) (RealPlayer) »
Stanford University ebonics expert speaks at UTSA April 14
(April 13, 2005)--Stanford University linguistics professor John R. Rickford, will speak on "Ebonics and Education: Building on the African American Vernacular (vs. Ignoring It, Laughing at It or Trying to Legislate It Away) to Help Students Succeed in Schools" at 4 p.m., Thursday, April 14 in the Main Building Auditorium (0.104) on the UTSA 1604 Campus. The lecture, followed by a reception, is free and open to the public.
A Martin Luther King Jr. Centennial Professor of Linguistics and director of the African and Afro-American Studies program at Stanford University, Rickford is a renowned expert on African American vernacular English and West Indian Creole.
He comes to UTSA through the Brackenridge Distinguished Visiting Professorship.
---
Today's headlines
Article tools
---
Rickford's research is in sociolinguistics, particularly the relation between language and ethnicity, social class and style, language variation and change, and pidgin and Creole languages. His research focus is on Gullah, Guyanese, West Indian Creole and other Caribbean creoles, African American vernacular English and the applications of linguistics to educational problems.
Rickford teaches courses in African American vernacular English, language in society, Pidgin and Creole English, and sociolinguistic theory and analysis.
He received an American Book Award from the Before Columbus Foundation for "Spoken Soul: The Story of Black English" (2000). His other books include "Style and Sociolinguistic Variation" (with Penelope Eckert) (2001), "African American Vernacular English: Features, Evolution and Educational Implications" (1999), "Dimensions of a Creole Continuum" (1987), "Sociolinguistics and Pidgin-Creole Studies" (Editor) (1988) and "A Festival of Guyanese Words" (Editor) 1978).
The lecture is sponsored by the UTSA Office of the Provost, the College of Education and Human Development, the Division of Bicultural-Bilingual Studies, the Department of Political Science and Geography, and the Department of English, Classics and Philosophy.
For more information, call the Division of Bicultural-Bilingual Studies at (210) 458-4426.
The Brackenridge Distinguished Visiting Professorship is made possible by a generous endowment gift from the George W. Brackenridge Foundation.