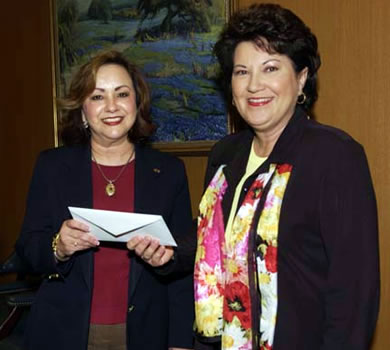 Liz Mitchell, UTSA chief legal officer, (right) delivers a letter from President Romo
congratulating Grace Hernandez (left) for winning the Rising Star Award.
Rising Star Award: Grace Hernandez
(April 19, 2005)--Grace Hernandez, director of the office of institutional diversity, will be honored with the Rising Star Award, one of five presented April 28 at the UTSA Staff Excellence and Service Awards ceremony.
---
Today's headlines
Article tools
---
In the first of five award spotlights that will be featured on UTSA Today before the ceremony, the Rising Star Award recognizes a staff member with less than three years of continuous service with the university who has made significant contributions to his or her area or to the university community and has demonstrated improvement through cooperation, initiative and a take-charge attitude.
The five Staff Excellence Awards recognize excellent work performance in emerging leadership, dynamic leadership, teamwork, extraordinary initiative and overall excellence. The awards are: Rising Star Award, Leadership Award, Team Spirit Award, Extra Mile Award and Order of the Roadrunner Award. One hundred nominations were submitted; one hundred twenty-three employees were nominated.
------------------------------
Grace Hernandez
Rising Star Award winner
Grace Hernandez has worked in the Office of Institutional Diversity since 2003. She began as assistant director and advanced to her present position as director.
In a position that is difficult and stressful, Hernandez' vision, objectivity and determination have helped her do her job without hesitation. She is known as a problem solver by senior administrators, faculty and students because she is able to find solutions to any conflicts. According to a nominator, Hernandez' leadership has helped to facilitate the hiring process of new faculty members through innovation, a spirit of accountability and a healthy dose of common sense.
Hernandez is co-chair of the Affirmative Action and Diversity Committee in which she ensures that the goals of furthering diversity and creating more opportunities for minorities and women are fulfilled. She represents the university in external organizations such as the Industrial Liasion Group, the San Antonio Human Resources Management Association and soon will be a member of the Texas Diversity Council. She has ensured that UTSA has an affiliate program of the National Coalition Building Institute.
Her great vision, determination, objectivity and personality are illustrated by her work. She is always willing to help students, faculty members and staff members to find solutions to their problems. Hernandez is dedicated to working with faculty, staff and administrators to ensure that UTSA becomes a tier-one institution.
------------------------------
UTSA employees are invited to attend the event hosted by Guy Bailey, UTSA provost and executive vice president, Rosalie Ambrosino, UTSA vice president for student affairs, and Richard Lewis, special assistant to the president, at 2:30 p.m., Thursday, April 28, in the University Center Retama Auditorium (2.01.02) on the 1604 Campus. The ceremony will include remarks by UTSA President Ricardo Romo.
Downtown Campus and Institute of Texan Cultures staff members can attend the event utilizing VIA bus 94 at no charge by showing their UTSACard.
The ceremony will include retiree recognition, service pin awards for 5-30 years and refreshments. Thirty-three staff members will be honored on their retirements and 219 staff members will receive UT System service awards for the 2004 calendar year.
Watch UTSA Today for profiles of the winners of the Leadership Award, Team Spirit Award, Extra Mile Award and Order of the Roadrunner Award.