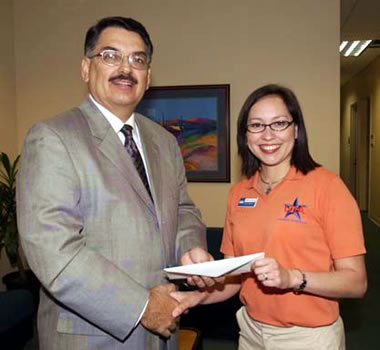 Michelle Detiveaux Rodriguez (right) receives notification of her award from
Sam Gonzales, assistant vice president for student services.
Order of the Roadrunner Award: Michelle Detiveaux Rodriguez
(April 25, 2005)--Michelle Detiveaux Rodriguez, career counselor in the UTSA Office of Career Services, will be honored with the Order of the Roadrunner Award, one of five presented April 28 at the UTSA Staff Excellence and Service Awards ceremony.
In the fifth of five award spotlights featured on UTSA Today before the ceremony, the Order of the Roadrunner Award recognizes an individual who demonstrates exemplary service and commitment to UTSA and the achievement of its goals through his or her actions throughout the year. This individual has enhanced the quality of work life in ways that significantly increase productivity and efficiency for colleagues or customers through the development of creative solutions, providing outstanding and ongoing excellence in services to faculty, staff, students or other UTSA customers. This is the highest honor that a UTSA staff member can receive for their service to the UTSA community.
---
Today's headlines
Article tools
---
The five Staff Excellence Awards recognize excellent work performance in emerging leadership, dynamic leadership, teamwork, extraordinary initiative and overall excellence. The awards are: Rising Star Award, Leadership Award, Team Spirit Award, Extra Mile Award and Order of the Roadrunner Award. One hundred nominations were submitted; one hundred twenty-three employees were nominated.
------------------------------
Michelle Detiveaux Rodriguez
Order of the Roadrunner Award winner
Michelle Detiveaux Rodriguez has worked in Career Services since she was a UTSA student. She is now the career counselor for the College of Education and Human Development.
As a career counselor, she has demonstrated devotion and passion in helping UTSA education students find a place in the work force. The education career counselor position was newly created when Rodriguez took the job, and she realized the responsibility she would carry on her shoulders.
Rodriguez maintains excellent relationships between UTSA and local school districts. She was instrumental in creating the UTSA Educator Fair, where students now can apply for positions with more than 100 school districts. She makes it easy for human resources personnel to do their jobs and hire UTSA students. She keeps long hours to make sure that students who cannot meet during the day have an opportunity to meet with her. She also reaches out to students through classroom presentations.
Rodriguez works to develop good relationships with faculty and staff in academic departments as well as other student affairs departments. She is the treasurer of the San Antonio Colleges and Universities Placement Association and was nominated to serve as the secretary and treasurer of the Texas Association of Employment. Because of her expertise, she was invited to speak at the Academy for Teacher Excellence.
Rodriguez' achievements as a career counselor are an example of the devotion and passion she has for her job. As a UTSA alumna, she exhibits integrity and professionalism that speaks volumes to all who come in contact with her. She is tireless and goes above and beyond in her determination to help students find a place in the work force and succeed in life. She exemplifies the service and commitment to UTSA worthy of the Order of the Roadrunner Award.
------------------------------
UTSA employees are invited to attend the event hosted by Guy Bailey, provost and executive vice president, Rosalie Ambrosino, vice president for student affairs, and Richard Lewis, special assistant to the president, at 2:30 p.m., Thursday, April 28, in the University Center Retama Auditorium (2.01.02) on the 1604 Campus. The ceremony will include remarks by President Ricardo Romo.
Downtown Campus and Institute of Texan Cultures staff members can attend the event utilizing VIA bus 94 at no charge by showing their UTSACard.
The ceremony will include retiree recognition, service pin awards for 5-30 years and refreshments. Thirty-three staff members will be honored on their retirements and 219 staff members will receive UT System service awards for the 2004 calendar year.