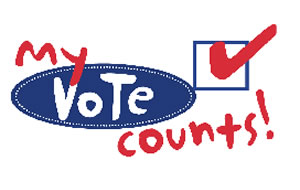 UTSA student government election is April 19-20
(April 13, 2005)--The UTSA student government election is Tuesday-Wednesday, April 19-20. Your voice as a student decides the future. You decide. Vote!
---
Today's headlines
Article tools
---
Students can vote online via the ASAP information system starting at 12:01 a.m., Tuesday, April 19 and ending at 11:59 p.m., Wednesday, April 20.
Election results will be announced outside the Office of Student Activities, University Center Room 1.02.08, 1604 Campus, at 5:15 p.m., Thursday, April 21. The results will then be posted on the door of the Office of Student Activities.
To report voting problems or for more information, call Student Activities at (210) 458-4160.
Below, see the list of student government candidates.
------------------------------
Student government candidates
Note: Because there is a write-in option when voting, additional candidates may emerge.
President: Christopher Forbrich, Jason Palasota. Forbrich is a senior business major from San Antonio. Palasota is a junior pre-med student majoring in finance from San Antonio. The Student Government Association (SGA) president is the elected voice of the student body to the university administration, Board of Regents and Texas Legislature.
Vice President-Internal: Nancy Ayon, sophomore political science major from San Antonio. The person in this position succeeds the president should he or she be unable to fulfill the duties of office.
Vice President-External: Adam Cowdin, sophomore accounting major from Austin; Carlos Moreno, junior international business major from Macomb, Mich.
Secretary: Priscilla Sanchez, sophomore communication major from Lake Jackson, Texas.
Treasurer: Christian Porter, freshman business major from McLean, Va.
One representative is elected for each 2,000 students enrolled in a college or school.
Representative, College of Liberal and Fine Arts (2 positions to be chosen from 4 candidates): Kristine Nicole Aquino, sophomore political science major from San Antonio; William Conway, sophomore political science major from Houston; Victor Flores, junior double major in sociology and Spanish from Garden Ridge, Texas; Matt Impelluso, freshman political science major from Baytown, Texas.
Representative, College of Sciences (2 positions to be chosen from 3 candidates): Krystal Amos, senior biology major from Houston; Shabnam Bhuiyan, freshman biology major from Bangladesh; Justin Shenk, senior biology major from San Antonio.
Representative, College of Business (2 positions available, 1 candidate): Dane Arbizu, senior double major in business administration and marketing from San Antonio.
Representative, College of Engineering (1 position to be chosen from 2 candidates): Miyah Calhoun, senior mechanical engineering major from San Antonio; Rob Johnson, freshman electrical engineering major from Austin.
Representative, School of Architecture (1 position, 1 candidate): Muneera Mohammad-Shah, junior architecture major from San Antonio
Representative, College of Education (2 positions, no candidates)
Representative, College of Public Policy (1 position, no candidates)