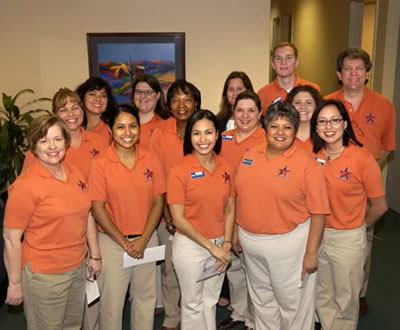 UTSA Office of Career Services team
Team Spirit Award: Career Services
(April 21, 2005)--The UTSA Office of Career Services will be honored with the Team Spirit Award, one of five presented April 28 at the UTSA Staff Excellence and Service Awards ceremony.
The UTSA Career Services team members are:
Stefanie Cisneros, program coordinator
Margaret Constantino, career counselor
Yvonne Gonzalez, director
Bruce Howard, employer development/relations representative
Julia Jackson, administrative associate
Brian Johnson, administrative associate
Jaclyn Perez, administrative associate
Stephanie Rocha, recruiting coordinator/orientation
Shirley Rowe, career counselor
Marie Soto, career counselor
Martina Sternberg, assistant director
Anna Lisa Vargas, career counselor
Reina Vargas, administrative associate
Matthew Yager, administrative associate
Jennifer Youngblood, interim assistant director
In the third of five award spotlights that will be featured on UTSA Today before the ceremony, the Team Spirit Award is awarded to a group of university staff members who have demonstrated exceptional ability to foster collaboration, communication and cooperation among colleagues within and outside their department. The team has significantly improved customer service, customer service satisfaction, and notably improved productivity and efficiency.
---
Today's headlines
Article tools
---
The five Staff Excellence Awards recognize excellent work performance in emerging leadership, dynamic leadership, teamwork, extraordinary initiative and overall excellence. The awards are: Rising Star Award, Leadership Award, Team Spirit Award, Extra Mile Award and Order of the Roadrunner Award. One hundred nominations were submitted; one hundred twenty-three employees were nominated.
------------------------------
Career Services
Team Spirit Award winners
The Career Services team is the epitome of UTSA spirit. They regularly collaborate, cooperate and communicate with UTSA students -- their primary clients -- and listen for suggestions to improve employment services. They work daily to provide professional services and increase customer satisfaction. When faced with challenges, they find creative solutions.
To help students find part-time employment, the team worked in partnership with the Office of Financial Aid and local employers to organize the first Student Employment Fair in the fall 2004 semester. Career Services maintains the Employer Advisory Board to keep in touch with the market place in order to help students in job searches. The team collaborated with faculty members to create a career development course offered for the first time in fall 2005.
The team regularly participates in campus events including volunteering to help at commencement and graduate fairs. Each team member is active in the San Antonio Colleges and Placement Association, regularly volunteering to work at the organization's job fairs. Staff members participate in the community at high school fairs to encourage students to attend college.
The team formed a social committee to work with other UTSA offices to become more informed about important campus matters, health issues and trends. Thus far, they have met with Campus Recreation, the Recovery Center and Disability Services, and plan to meet with the UTSA Police Department.
To boost morale and productivity within the Office of Career Services, the team began a tradition of ringing a bell and clapping whenever they learn a student is hired for a job, motivating the staff and the students in the office as well. As a result of the excitement and high morale in the office, career placements increased by 65 percent this year.
The numbers show that the Career Services team is exceptional at spreading UTSA spirit, being a good neighbor and serving the UTSA community.
------------------------------
UTSA employees are invited to attend the event hosted by Guy Bailey, UTSA provost and executive vice president, Rosalie Ambrosino, UTSA vice president for student affairs, and Richard Lewis, special assistant to the president, at 2:30 p.m., Thursday, April 28, in the University Center Retama Auditorium (2.01.02) on the 1604 Campus. The ceremony will include remarks by UTSA President Ricardo Romo.
Downtown Campus and Institute of Texan Cultures staff members can attend the event utilizing VIA bus 94 at no charge by showing their UTSACard.
The ceremony will include retiree recognition, service pin awards for 5-30 years and refreshments. Thirty-three staff members will be honored on their retirements and 219 staff members will receive UT System service awards for the 2004 calendar year.
Watch UTSA Today for profiles of the winners of the Extra Mile Award and Order of the Roadrunner Award.