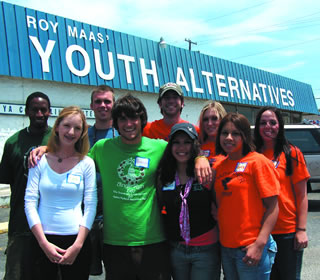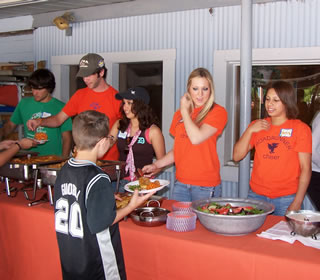 UTSA student volunteers are (top photo, front row) Tiffany Grimm,
Patrick Dentler, Hailyn Bella and Denise De la Garza; (back row)
David Burnett, Mickey Jamail, Adam Cowdin, Katrina Chamblee
and Natalie Christodoulopoulas. In the lower photo, the students
serve food.
UTSA students organize 'Swipe for Kidsake!' event to feed abused children
(May 9, 2005)--An idea that began around the lunch table culminated May 6 when a group of UTSA students and student-athletes served a free meal to 75 children at the Roy Maas Alternative Shelter in San Antonio as part of the first UTSA Swipe For Kidsake!
Taking part in the project were its orginators Adam Cowdin, Mickey Jamail and Patrick Dentler, and UTSA track and field athlete David Burnett, Roadrunner cheerleaders Katrina Chamblee, Natalie Christodoulopoulas and Denise De la Garza, as well as students Hailyn Bella and Tiffany Grimm.
---
Today's headlines
Article tools
---
The nine UTSA students served a meal, courtesy of Chartwells Catering, that consisted of lasagna, chicken nuggets, salad, green beans, dessert and all the trimmings to a large group at the Roy Maas West Avenue location. The center serves as a refuge for abused and runaway children, ages 5 to 17.
"Swipe For Kidsake! is a project that was first proposed to me by two of my former schoolmates from high school," said Cowdin, who also serves as vice president-external for the UTSA Student Government Association. "It was initially an idea to bring homeless people on campus and 'swipe them in' to eat (with UTSACards) at the UC (University Center) dining hall. When this seemed improbable, I came up with the idea for us to bring the food to them. I contacted Leslie Bulkley, the Chartwells dining services director of operations, and she was more than willing to help me out on this project. We decided that we would cater a meal for a needy shelter and would get students at UTSA to donate that meal."
"Leslie,
Richard Gianacovo
(Chartwells resident district manager) and I devised a plan where students were able to donate three card swipes from their meal plan to go to the cause," Cowdin said. "If our goal of 300 swipes was accomplished, Chartwells would then donate a fully catered meal for the kids at the shelter. From 10 a.m. to 3 p.m. on Monday May 2, students at UTSA donated 405 swipes to feed the children. We got a lot of support from UTSA student-athletes, especially the men's and women's basketball teams and the volleyball team. We hope this is just the start of a program that could feed many local children throughout the year."
Judging by the smiles on the faces of the recipients and the thank-yous that rained down, the event was a complete success.
"This is great for our kids and much appreciated," said Kat Golando, director of short term services at the Roy Maas shelter. "For the UTSA students to take time out from studying for finals to come here and serve this meal is going above and beyond the call. This was a real treat for everyone here at the center."