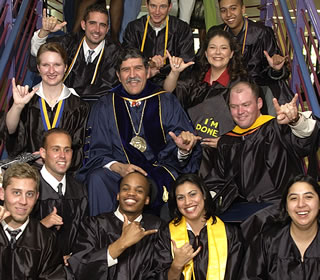 UTSA President Ricardo Romo (center) and graduates
More than 2,900 set to participate in UTSA May 13-14 commencement ceremonies
(May 10, 2005)--More than 2,900 students will walk the stage Friday and Saturday at The University of Texas at San Antonio Convocation Center as the spring semester concludes with four commencement ceremonies.
Each ceremony will be broadcast live on Time Warner Cable educational channel 19 and on UTSA Television monitors around campus. The College of Liberal and Fine Arts and the School of Architecture will kick off the weekend festivities with the 5 p.m. Friday ceremony. Ceremonies on Saturday begin at 9 a.m., followed by ceremonies at 1 p.m. and 5 p.m.
---
Today's headlines
Article tools
---
Lionel Sosa is the keynote speaker for the first ceremony, which starts the weekend with 807 degree candidates.
Sosa, who will speak to both liberal arts and architecture students, is an independent marketing consultant and founder of Sosa, Bromley, Aguilar & Associates, now Bromley Communications. Bromley is the largest Hispanic advertising agency in the U.S. with current billings of $280 million. Sosa, a member of the Texas Business Hall of Fame, was a media consultant for President George W. Bush during both his 2000 and 2004 campaigns.
On Saturday, Raymund Paredes, Texas commissioner of higher education, will greet College of Education and Human Development and College of Public Policy degree candidates at the 9 a.m. ceremony. An estimated 703 degree candidates will participate in the 9 a.m. ceremony.
Paredes served as director of creativity and culture at The Rockefeller Foundation and as vice president for programs at the Hispanic Scholarship Fund. A University of Texas at Austin graduate, Paredes served as chair of the Cesar Chavez Center for Chicano Studies at UCLA from 1996 to 1998. He also spent two years with the U.S. Army, including a 14-month tour in Vietnam with the First Infantry Division.
Following the morning ceremony, 889 College of Business degree candidates will walk the stage at 1 p.m. J. Dan Bates, president of the Southwest Research Institute, will give the keynote address. Southwest Research Institute is one of the nation's largest independent applied research and development organizations.
Before joining Southwest Research Institute in 1969, Bates was a systems analyst with the Exxon Corporation. Currently, he is chairman of Signature Science LLC, an Austin-based technical service company that specializes in environmental science and engineering, biotechnology and national security.
Finally, Hope Andrade will usher in the final commencement ceremony of the day with the 5 p.m. College of Engineering and College of Sciences ceremony with 504 expected participants.
Andrade, a San Antonio native, is commissioner of the Texas Transportation Commission. Andrade co-founded five enterprises in Texas: OptimaCare Inc., The Domestic Agency, PrimaStaff of Dallas Inc., PrimaStaff Home Health and MissionPlus Hospice LLC.
A total of 2,323 undergraduate students will participate during the four ceremonies, which recognize both spring and summer graduation candidates, while 574 graduate students and 10 doctoral students will join the procession
------------------------------
Graduation candidates per college or school
School of Architecture -- 55
College of Liberal and Fine Arts -- 754
College of Education and Human Development -- 549
College of Public Policy -- 156
College of Business -- 889
College of Engineering -- 151
College of Sciences -- 353
Total bachelor's degree candidates -- 2,323
Total master's degree candidates -- 574
Total doctoral degree candidates -- 10