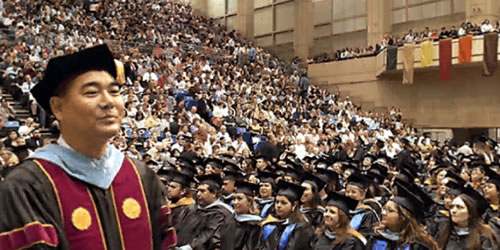 See a panoramic view of UTSA commencement »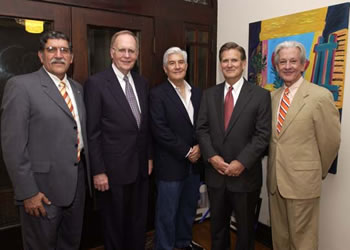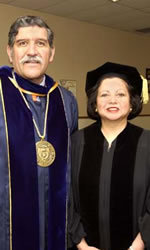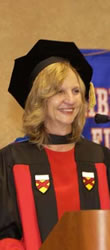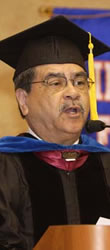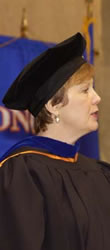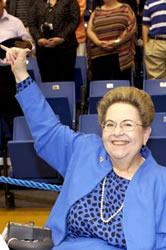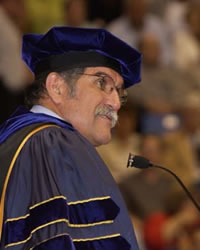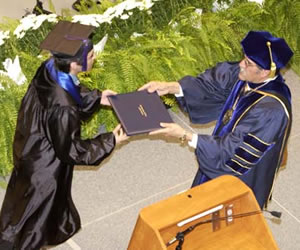 Photos by Mark McClendon and Patrick Ray Dunn
Photo Gallery: UTSA May 2005 Commencement
(May 19, 2005)--More than 2,900 students walked the stage May 13-14 at The University of Texas at San Antonio Convocation Center as the spring semester concluded with four commencement ceremonies.
Click under the top photo for a panoramic view of the College of Education and Human Development and College of Public Policy ceremony.
In row 2, UTSA President Ricardo Romo greets commencement speakers and guests at a reception. From left are Romo, UT System Board of Regents Member John W. Barnhilll Jr., Commissioner of Higher Education Raymund Paredes, J. Dan Bates (Southwest Research Institute president) and Lionel Sosa (founder of Sosa Consultation and Design). At right, Romo greets commencement speaker Hope Andrade, Texas Department of Transportation commissioner, before the ceremony.
In row 3, are graduates in procession.
In row 4, (from left) are UTSA Ambassadors, a graduate's best friend and a view of graduates' caps.
In row 5, are Betty Merchant, interim dean of the UTSA College of Education and Human Development; Jesse Zapata, UTSA vice provost for the Downtown Campus; Linda Montgomery, president of the UTSA Alumni Association and Pat Graham, UTSA executive director of special events.
In row 6, President Romo speaks to the graduates, their families and friends -- and a graduate receives his diploma.
Read more about the May ceremonies.