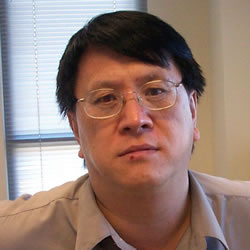 From top, James E. Groff, Blanche Desjean-Perrotta,
Michael Anderson, Donald Lien and Chris G. Reddick
Teaching Excellence and Research Achievement Awards
(May 4, 2005)--UTSA President Ricardo Romo and Provost and Executive Vice President Guy Bailey hosted the 2005 Faculty Honors Convocation Wednesday, May 4 in the Business Building University Room (2.06.04).
The ceremony honored recipients of the 2005 President's Distinguished Achievement Awards, the 2005 Chancellor's Council Outstanding Teacher Award and the Peter T. Flawn Professors for 2004-2005, acknowledged service awards and recognized faculty retirees.
Below, read profiles of the honorees for 2005 President's Distinguished Achievement Awards for Teaching Excellence and Research Achievement.
---
Today's headlines
Article tools
---
------------------------------
Teaching Excellence -- Tenured and Tenure-Track Faculty
James E. Groff
James Groff is a professor of accounting in the College of Business. He has taught at all levels of the accounting program, teaching everything from large-section, sophomore-level managerial accounting to a Ph.D. seminar. He has served as the doctoral program coordinator for the new Ph.D. program in accounting. Additionally, he developed an impressive online M.B.A. course that he now teaches as part of the UT System consortium master's program.
Blanche Desjean-Perrotta
Professor Blanche Desjean-Perrotta is a teacher's teacher. She serves as the College of Education and Human Development program director for the master of education with teacher certification program. Desjean-Perrotta is professor and coordinator for teachers' professional internships. She garnered a $100,000 grant awarded by the Eisenhower Professional Development Grants Program for Project Texas, a program for the enhancement of science education in the elementary classroom.
Teaching Excellence -- Non-Tenure Track
Michael Anderson
Michael Anderson impressed the committee with his high teaching evaluations in an area known for its rigor -- statistics. His commitment to the statistics program and its students is well documented, with his focus on "whole statistics and the whole student."
Research Achievement -- Tenured and Tenure-Track
Da-Hsiang (Donald) Lien
Donald Lien is a world-renowned researcher. His work is cross-disciplinary, spanning economics, finance and statistics. He has published more than 160 refereed articles, posting 31 in 2002 and 32 in the 2003-2004 academic year. The Financial Research Ranking System, published in Australia, ranks Lien as the number one finance researcher in the world based on his publications in the organizations top 19 finance journals for 2000-2005.
Chris G. Reddick
Chris Reddick is an incredible researcher. His vita reads like that of a seasoned full-professor, yet he is junior faculty. He has published seven refereed publications in his field of public administration in the past year. He is poised to make a contribution to his college, UTSA and his field as he continues to undertake important, high-visibility public policy research.