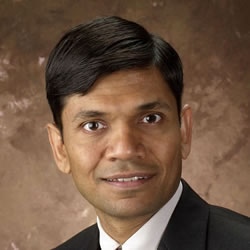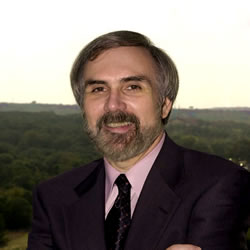 From top, Mark Leung, C. Mauli Agrawal,
Felix D. Almaraz Jr., Guy Bailey, Mark H. Bernstein
and Lynda de la Vina
Chancellor's Council Outstanding Teaching Award and Peter T. Flawn Professorships
(May 9, 2005)--UTSA President Ricardo Romo and Provost and Executive Vice President Guy Bailey hosted the 2005 Faculty Honors Convocation Wednesday, May 4 in the Business Building University Room (2.06.04).
The ceremony honored recipients of the 2005 President's Distinguished Achievement Awards, the 2005 Chancellor's Council Outstanding Teacher Award and the Peter T. Flawn Professors for 2004-2005, acknowledged service awards and recognized faculty retirees.
Below, read profiles of the honorees for the 2005 Chancellor's Council Outstanding Teaching Award and the Peter T. Flawn Professorships 2004-2005.
---
Today's headlines
Article tools
---
------------------------------
2005 Chancellor's Council Outstanding Teaching Award
Mark Leung
This award is for tenured or tenure-track faculty and recognizes excellence in teaching at the undergraduate level. This year's winner, Mark Leung, is an associate professor in the Department of Management Science and Statistics in the College of Busines. Since joining UTSA in 1999, Leung has helped develop and refine courses in the statistics core. He earned the college's Col. Jean Migliorino and Lt. Col. Philip Piccione Endowed Faculty Award for Research Excellence in 2001 and the Chancellor's Council Outstanding Teacher Award in 2002… a repeat winner. Leung has received research grants for transportation and logistics studies as well as neural network studies. He was nominated for a Minnie Stevens Piper Professorship in 2004 and earned Teaching Excellence Recognition Awards at the Kelley School of Business in Bloomington, Ind., prior to joining UTSA.
Peter T. Flawn Professors 2004-2005
C. Mauli Agrawal
C. Mauli Agrawal, Peter Flawn Professor of Biomedical Engineering, is the associate dean of the UTSA College of Engineering graduate studies and research area and director of the biomedical engineering graduate program, a joint program of UTSA and the UT Health Science Center at San Antonio (UTHSCSA). Additionally, he serves as director of the newly created UTSA Institute for Bioengineering and Translational Research. Prior to starting the UTHSCSA orthopaedic biomaterials program in 1991, he served on the faculty in the Duke University Department of Biomedical Engineering.
Agrawal has received numerous honors and awards and has authored more than 220 scientific publications and established 18 patents. He is a fellow of the American Institute for Medical and Biological Engineering -- an honor reserved for those representing the top 2 percent of the profession. He was elected president of the Society for Biomaterials for 2006 and acted as program chair for the 2001 annual meeting. Agrawal serves on the editorial boards of the Journal of Biomedical Materials Research, Journal of Biomedical Materials Research (Applied Biomaterials), Tissue Engineering, and Journal of ASTM International. He is the founder of Xilas Medical Inc., a San Antonio-based medical device company working in the area of diabetic foot problems.
Felix D. Almaraz Jr.
Felix D. Almaraz Jr. is a professor in the UTSA Department of History. Over the course of a four-decade career, Almaraz has received numerous awards including the UTSA Piper Professor of 2003 and the Medal of the Order of Civil Merit, bestowed by Spanish Ambassador Javier Ruperez on behalf of King Juan Carlos I of Spain. Other awards include the 2002 UTSA Alumni Association Distinguished Faculty Teaching Award, 2002 induction into the Texas Institute of Letters and the 2001 Certificate of Commendation from the American Association for State and Local History. Almaraz was honored earlier this year at the 109th annual meeting of the Texas State Historical Association (TSHA) for his outstanding service on behalf of Texas history and, in particular, the Hispanic heritage of the state.
"Tejano Epic," a collection of essays written by well-known scholars in Tejano history who studied under the professor, was published earlier this year as a tribute to Almaraz, a longtime member of TSHA. Almaraz is author of "Tragic Cavalier: Governor Manuel Salcedo of Texas, 1808-1813," "The San Antonio Missions and Their System of Land Tenure," "Cisneros 2000: Faces of the Borderlands" and "Knight Without Armor: Carlos Eduardo Castaneda, 1896-1958." He has lectured at many regional, national and international conferences on the Spanish borderlands of North America, the San Antonio missions, and historical and modern Spain.
Guy Bailey
Guy Bailey, UTSA provost and executive vice president, and professor of English, classics and philosophy, has had his research on Texas English featured in the New York Times, National Public Radio, PBS, CNN Headline News, BBC Radio, Texas Monthly and the San Antonio Express News. During his tenure at UTSA, 10 doctoral programs have been created, external funding for research has more than doubled, total enrollment has increased by more than one third and graduate enrollment has risen by nearly 50 percent. Bailey continues research on language variation and change with special emphasis on the English of Texas and the American South. Since 1984, he has brought nearly $1 million in external funding for his research.
Mark H. Bernstein
Mark H. Bernstein received his Ph.D. in philosophy from the University of California at Santa Barbara. After teaching one year at Wesleyan University, he began a 22-year stint at UTSA, becoming the Peter T. Flawn Distinguished Professor of Philosophy in 2004. During his tenure at UTSA, Bernstein published three books on fatalism, moral considerability and our relationships with animals. His numerous publications concern the metaphysics of free will and fatalism as well as the proper moral relationship between human and nonhuman animals. He has served as director of the Campus Cat Coalition for many years and has tried to rationally argue for a far more just treatment of all sentient creatures. Bernstein begins his appointment as the Brewer Chair in Applied Ethics at Purdue University in 2005.
Lynda de la Vina
Lynda de la Vina was named interim dean and the Peter Flawn Professor of Economics in the UTSA College of Business in fall 2004. Last week she was named College of Business dean. She is the first woman and first Hispanic to serve as UTSA College of Business dean and the only female Hispanic business dean in the UT System. De la Vina received master's and doctoral degrees in economics from Rice University and a baccalaureate degree in government and economics from UT Pan American. She is the first Mexican-American woman to receive a Ph.D. in economics in the United States. Returning home following six years on the East Coast, de la Vina previously served as associate dean of the Graduate Division of Business and Management and chair of the Department of Finance and International Business at Johns Hopkins University. The M.B.A. program at Johns Hopkins was ranked the fourth largest in the nation.
In 1998, she was a presidential appointee to the U.S. Department of Treasury and served as deputy assistant secretary for economic policy until 2001. Prior to her career in Washington, D.C., de la Vina served 19 years at UTSA, serving as assistant director of the human resources management and development program, a faculty member in the Department of Economics, executive director of the Institute for Studies in Business and associate dean of graduate studies and research.