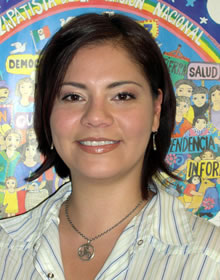 Patricia Trujillo and Lori Beth Rodriguez
UTSA students receive prestigious Ford fellowships
(May 16, 2005)--Patricia Trujillo, a second-year Ph.D. student in English at UTSA, has been awarded a Ford Foundation Diversity Fellowship for fall 2005. Lori Beth Rodriguez, also a second-year Ph.D. student in English, was selected as alternate for the award.
Trujillo and Rodriguez are the first UTSA doctoral students in English to be selected for Ford Foundation fellowships.
Among the most competitive and prestigious fellowships in the country, the fellowship comes with a $17,000 annual stipend and additional funds provided to the student's department. The fellowship will fund three years of work toward Trujillo's Ph.D. degree.
---
Today's headlines
Article tools
---
Bernadette Andrea, chair of the Department of English, Classics and Philosophy, said, "Trujillo's award represents a major step forward for our Ph.D. program. Her achievement puts us on the map as a department of choice for the best scholars in U.S. Latina/Latino studies."
Trujillo's proposal, "Surviving Spectacles: The Literature and Rhetoric of Community Performance in Northern New Mexico," outlines a dissertation project using her expertise in Chicana/Chicano and Native American literature, composition and rhetoric to study the languages of community spaces and literature, including La Fiesta de Santos and the Spanish and Indian markets in Northern New Mexico.
Additionally, she will examine the resistance cultures of ethnic Northern New Mexicans, reading the works of Sabine Ulibarri, Paula Gunn Allen, Simon Ortiz and others.
A native of Espanola, New Mexico, Trujillo grew up in Arroyo Seco, N.M. As an undergraduate student, she began a project to collect stories of women of color employed in World War II by the Los Alamos National Laboratory. As an M.A. student at the University of Nebraska (UNL), she studied American Indian women's activism. At Northern New Mexico Community College, she designed field-specific courses for the Writing Across the Curriculum program.
At UTSA, Trujillo served in 2004-2005 as the Women's Studies Institute program assistant under the supervision of Sonia Saldivar-Hull, director of the institute and professor of English, classics and philosophy. She served as a primary organizer of Women's History Month 2005. After earning her UTSA degree, she plans to teach at a four-year public university.
Lori Beth Rodriguez, a native of San Antonio, earned a B.A. degree from Our Lady of the Lake University (OLLU) and an M.A. degree in psychology from UTSA. At OLLU, she participated in the McNair Scholars Program and the University of Michigan Summer Research Opportunity Program. Her research focuses on Chicanas' perceptions of their bodies, particularly negative self-perceptions produced by mass media.
Established in fall 2002, the UTSA doctoral program in English prepares students to teach English language and culture in a culturally diverse, global society. The degree program has a dual concentration of rhetoric/composition and Latina/Latino literary and cultural studies.
For more information, contact Bill Mullen, UTSA professor of English, classics and philosophy, at (210) 458-5351.