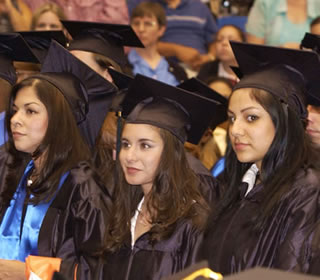 UTSA May graduates
UTSA ranks No. 4 in Hispanic undergraduate degrees
(May 19, 2005)--For the third consecutive year, The University of Texas at San Antonio ranks No. 4 in the nation in the number of undergraduate degrees awarded to Hispanics students according to the May 2005 edition of The Hispanic Outlook in Higher Education magazine. Additionally, eight UTSA programs ranked among the Top 10.
The magazine surveyed the 2003-2004 academic year of the Top 100 predominantly Hispanic-serving colleges and universities in the United States and Puerto Rico. Read more at the Hispanic Outlook Web site.
---
Today's headlines
Article tools
---
Overall, UTSA ranked No. 4 with 1,357 or 47 percent of undergraduate degrees awarded to Hispanics of the 2,871 total bachelor's degrees awarded. Additionally, UTSA ranked No. 16 in the number of master's degrees awarded to Hispanics with 247 or 33 percent of a total 757 awarded.
The survey also ranked two UTSA academic programs higher than the previous year's rankings. The architecture program in the UTSA School of Architecture improved from 9th to 4th place, awarding 29 undergraduate degrees. The criminal justice/protective services program in the UTSA College of Public Policy improved from 5th to 3rd place, awarding 105 undergraduate degrees to Hispanics.
For the eighth time in nine years, UTSA ranked first in the biological sciences with 105 undergraduate degrees awarded to Hispanics.
UTSA currently offers 41 master's degree programs, in addition to 55 undergraduate and 13 doctoral degree programs.
In the number of bachelor's degrees awarded to Hispanics in individual academic programs among the top 10 disciplines, UTSA ranked:
1st -- Biological Sciences: 105
2nd -- Business and marketing: 384
3rd -- Multi/interdisciplinary studies: 139
3rd -- Criminal justice/protective services: 105
4th -- Architecture: 29
5th -- Psychology: 113
7th -- English literature: 52
8th -- Mathematics: 14
"These findings again demonstrate UTSA's commitment to better serving our students traditionally underrepresented in higher education," said UTSA President Ricardo Romo.
"The growth of UTSA's School of Architecture program is significant as we look to expand course offerings at the rapidly growing UTSA Downtown Campus," said Romo. "To have eight undergraduate degree programs in the top 10 nationally out of the 21 discipline concentrations surveyed is a tribute to the commitment and dedication of our excellent faculty."
Overall, the University of Texas System dominated the first tier of the Top 100 institutions with UT Pan American, UT El Paso, UT San Antonio, and UT Austin placing among the Top 10.