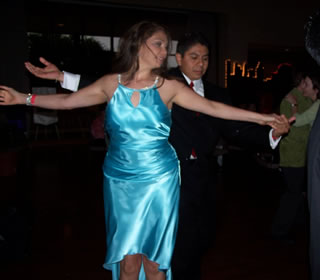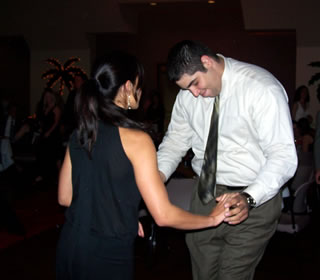 Dancers at the Honors Alliance gala
UTSA Honors Alliance hosts 'Havana Nights' gala
(May 3, 2005)--The UTSA Honors Alliance hosted the annual Student Honors Convocation and Faculty Appreciation Dinner and Dance April 29 in the University Center Laurel Room at the 1604 Campus.
---
Today's headlines
Article tools
---
With the theme "Havana Nights," the event celebrated UTSA honor societies and student-selected faculty and staff. Grupo Fantasma provided music to accompany salsa dancing.
More than 100 faculty and staff members were recognized by the Honors Alliance for excellence in promoting intelligent living, meaningful learning and supporting the ideals and virtues of academic integrity and honesty.
The Public Relations Student Society of America (PRSSA) received an Honors Alliance Award for its presentation of Ethics Awareness Week in February. The Student Government Association (SGA) was awarded for its work to gain student approval of the UTSA honor code.
------------------------------
UTSA Students Honors Convocation 2005 Faculty and Staff Honorees
Arturo Ayon, Engineering
Marian Aitches, History
Sue Aki, Anthropology
Michael Almeida, English
Armando Arciniega, Math
Ronald Ayers, Economics
Rex Ball, Core Faculty
Lorenzo Barcaleon Physics
Thad Bartlett, Anthropology
Mark Bernstein, English, Classics and Philosophy
Angel Brazeal, Writing Program
Charmaine Bride, Interdisciplinary Studies
William Burchenal, Writing Program
Katie Cardwell, History
David Casanova, Chemistry
Jacqueline Caver, Writing Program
Derral Cheatwood, Sociology
Fexgin Chen, Science and Mathematics Education Xunwu Chen, English, Classics and Philosophy
Christopher Chipps, Visitors Center
Ruth Coates, University Center Events Management
Robert Collinge, Economics
Chris Coteff, Biology
Mark Doedder, Computer Science
John Drake, Psychology
Leif Endresen, University Center Events Management
Carmen, Fies, Interdisciplinary Studies
Juanita Firestone, Sociology
Javier Flores, Housekeeping
Kay Ford, Political Science
Elissa Foster, Communication
Grace Fouts, University Center Events Management
Darren Fransella, Information Systems
James Gallagher, English
Richard Gambitta, Political Science
Ora Garcia, Modern Languages and Literatures
Judith Gardner, Writing Program
Pat Graham, Special Events Center
Sue Greive, Modern Languages and Literatures
Kolleen Guy, History
David Hansen, History
Janis Harmon, Interdisciplinary Studies
Luis Haro, Biology
Richard Harris, Biology
Kenneth Hovey, English, Classics and Philosophy
Nancy Iragorri, Modern Languages and Literatures
Michael Jennings, College of Education and Human Development
Eugene John, Electrical Engineering
David Johnson, History
Margaret Jones, Sociology
Craig Jordan, Biology
John Kaulfus, University Center and Student Activities
Francesca Keith, Math
Jyothi Ketavarapu, Biology
Cathy Key, Computer Science
Susanne Kimball, Interdisciplinary Studies
Mike Kurz, Chemistry
Melissa Leath, Writing Program
Mark Leung,Business Management
Alex Lopez, Art
Ashley Love, Health and Kinesiology
Maria Martinez, University Center Events Management
Roger McHenry, Core Math
Kellen McIntyre, Art History
Barry McKinney, Student Activities
Roxi McCloskey, Art
Mary McNaughton-Cassill, Academic Support and Undergraduate Studies
Lorie Milam, Accounting
Ron Miller, Philosophy
John Morris, Political Science
Belinda Munoz, Graduate School
Sharon Navarro, Political Science
Rosalie Noyes, Interdisciplinary Studies
Linda Passaniti, Algebra
Parimal Patel, Electrical Engineering
Berta Perez, Bicultural Bilingual Studies
Nelda Pisors, Public Speaking
Erin Plant, Modern Languages and Literatures
Alyson Ponomarenko, Science
Bernard Powell, Chemistry
Walter Richardson, Math
Michael Rollin, History
Julia Sargent, Anthropology
Loretta Schlegal, COLFA Advising
Nevil Shed, University Center Events Management
John Soudah, Advanced Computer Lab
Wes Spradley, Computer Science
Mavis Startin, Political Science
John Stoler, English, Classics and Philosophy
William Sutton, History
Timothy Tolley, Science
Steve Tomka, Center for Archaeological Research
Betty Travis, Science and Mathematics Education
University Center Events Management Staff
Kenton Wilkinson, Communication
Frederick Williams, Political Science
Karen Williams, Information Systems
Bennie Wilson III, Management
Marilyn Wooten, Chemistry
Tammy Wyatt, Health and Kinesiology