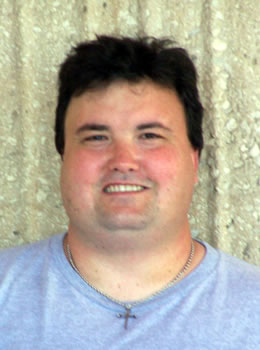 Mike Hubbell
Commencement Close-up: Mike Hubbell's UTSA degree adds even more power to his life
(May 11, 2005)--Graduating senior Mike Hubbell is a busy but happy man. The UTSA psychology degree he will receive this weekend fills out a resume of impressive skills and pursuits.
Hubbell worked for City Public Service from 1989 to 2001 as a power plant operator, during which time he earned an associate degree in power plant technology from Bismarck State College in North Dakota.
As a power plant operator, he noticed the industry lacked an easy-to-use guide for power supply system operations. To fill the void, he wrote the book, "The Fundamentals of Power Generation," which will be published this year.
---
Today's headlines
Article tools
---
Hubbell also utilized his knowledge of power systems to make his home more energy efficient, reducing his energy bill by 60 percent. "I'd like to work with UTSA on implementing some more energy efficient technologies as well," he said.
Hubbell currently works as an online instructor for Bismarck State College and teaches five classes on power plant technology. He is a staunch advocate of online instruction. "I like being an online instructor. I can take my classroom with me wherever I go," he said.
With his knowledge of the power industry, a psychology degree from UTSA may seem out of place, but it simply follows a new bend in the path of his life.
After leaving City Public Service in 2001, Hubbell began work with Baptist Health System as a registration specialist. While working at a hospital, he met a diabetes patient who changed his outlook on health care. The patient was about to lose a limb and was suffering from depression. Her daughter turned to Hubbell for help in determining her mother's options. He was able to reach out by talking with the mother and helped ease the decision-making process for the family.
"The experience really changed me," he said. "I want to be able to help more people like that."
Hubbell plans to pursue graduate studies with research interests involving the use of computers for amputee and palsy rehabilitation.
An involved student, Hubbell is an officer in the UTSA Student Psychology Association, the Society for Undergraduates in Neuroscience and Voices for Planned Parenthood, as well as a member of the Electric Providers Coalition for Education.
Additionally, he plans to continue teaching, developing and taking courses with Bismarck State College in power plant technology.
It's ambitious, but it's a way for the former electrical plant operator to further empower himself and others.