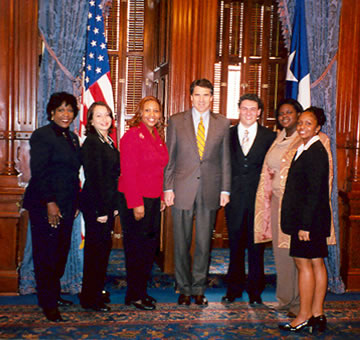 Rep. Ruth Jones McClendon (left) with Gov. Rick Perry (center)
and McClendon Scholars
FYI Features: Five UTSA students learn about Austin politics and real life as McClendon Scholars
(May 20, 2005)--UTSA senior Brad Domangue didn't begin his spring 2005 internship at the state capitol with dreams of some day becoming a state representative. He was there to keep an eye on things. A watchdog, a future political journalist -- that's what he would be. Not a politician.
Nearly two months later, Domangue hates to say it, but "[The internship experience] kind of makes me want to go into politics."
---
Today's headlines
Article tools
---
Score one for Rep. Ruth Jones McClendon. It was her scholarship program that brought Domangue to the capitol in the first place. McClendon teamed with UTSA and its Institute for Law and Public Affairs in September 2004 to form the McClendon Scholars Program. Through the program, five UTSA students received a $10,000 stipend each to spend five months in Austin interning in the Texas House of Representatives during the regular legislative sessions.
Of the five students, only LaTronda Sanders-Darnell interned with Rep. McClendon. Domangue spent the session with Rep. Jim McReynolds, while Alexis Sampson worked for Rep. Peggy Hamric. Annete Zarate and Destinee Waiters interned with Rep. Velma Luna and Rep. Yvonne Davis, respectively.
McClendon, who represents district 120 in San Antonio, teamed with UTSA in creating the program with the idea of putting UTSA students on equal footing with students who normally live in Austin during the legislative session.
Major contributors to the inaugural program were SBC Communications Inc. and the San Antonio Coca-Cola Bottling Co. According to Richard Gambitta, department chair of political science and geography, the group is already halfway to its fund-raising goal of $50,000 for the next legislative session.
Meanwhile, McClendon is excited about next session's crop of interns, noting that the program can only continue to grow, especially after the inaugural group's success.
"All over the Capitol I hear people talking about the McClendon Scholars," says McClendon. "When they got here, they just became a part of the system and they were so anxious to learn. I'm so proud that UTSA saw the need for this program and has been so supportive."
The experience has meant something different for everyone involved. For Sanders-Darnell, it's meant a lot of time away from her husband and three children ages 15, 10 and 1. She's in the office by 6 a.m. and often works long hours. But, her mother-in-law has stepped in to help a lot and she's been able to see first hand a process that is a lot different than just reading about it in books.
"Because you're dealing with real people, real emotion and a lot of time people are talking about a bill that affects their brother or their cousin, and they are very emotional about it, you get a different experience than learning through books," says Sanders-Darnell.
For Waiters, life on the hill has served up one big adrenaline rush. Probably the most politically active member of the group, Waiters has spent the session with the most outspoken representative. Her enthusiasm for shaping policies that affect people's lives is infectious.
She spent much of the spring session working on juvenile justice and family issues. Her favorite moment? When the group heard a bill on paternity rights that she had tracked and written talking points for discussion. Waiters genuinely wants to help people and is passionate about her causes, making the capitol a perfect place to be.
"So far, it's been an amazing experience," she says.
Meanwhile for Domangue the defining moment of the spring internship had nothing to do with policy and everything to do with people. When a mother brought her two young daughters to the capitol to meet McReynolds, the representative from their district, the busy rep spent two hours showing them around the capitol and talking to them.
"I don't think I could work for a better person," says Domangue. "Who's to say one of those little girls isn't going to be the next governor, next president or next mayor of Lufkin. It was one of those moments that let me know, okay... this is what it's about... this is what this building exists for."