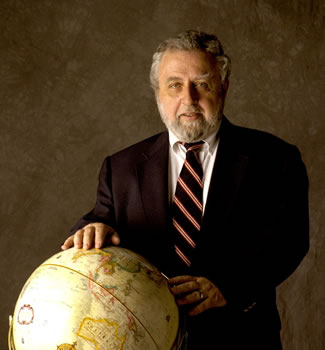 Thomas Bellows
UTSA Spotlight: UTSA Professor Thomas Bellows speaks at Woodrow Wilson International Center for Scholars
(June 15, 2005)--Thomas Bellows, UTSA professor of political science and editor of the American Journal of Chinese Studies, recently published a monograph, "The Republic of China's Legislative Yuan: A Study of Institutional Evolution." A monograph is a detailed, methodical, written discussion of a topic.
Bellows' treatise, published as part of the Contemporary Series in Asian Studies at the University of Maryland School of Law, is significant because there is little written on Taiwan's legislature.
---
Today's headlines
Article tools
---
Additionally, Bellows spoke May 18 at the Woodrow Wilson International Center for Scholars in Washington, D.C., on the current state of relations between the governments of Mainland China and Taiwan. Hosted by the center's Asia program, Bellows and several other experts participated in the discussion, "Breaking the Ice, or Muddying the Waters? New Dialogue Across the Taiwan Strait."
Bellows argues that the two sides of the Taiwan Strait need more interaction and closer ties, and that the United States should strongly encourage dialog. He does not believe this dialog would lead to Taiwan's annexation by China because the future of "One China" has yet to be defined -- a formulation he believes could take 50 years.
Read more about the China presentation at the Wilson International Center for Scholars Web site.
The Woodrow Wilson International Center for Scholars is a respected, national memorial to President Wilson established by Congress in 1968 and headquartered in Washington, D.C. The nonpartisan institution is supported by public and private funds and engages in the study of national and world affairs. The center establishes and maintains a lively, neutral forum for free and informed dialogue.
The center's mission is to commemorate the ideals and concerns of Woodrow Wilson by providing a link between the world of ideas and the world of policy and fostering research, study, discussion and collaboration among a full spectrum of individuals concerned with policy and scholarship in national and world affairs.