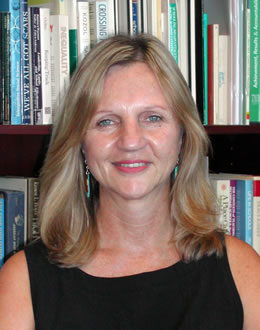 Betty Merchant
UTSA names education and human development dean
By Leigh Anne Gullett
Public Affairs Specialist
(June 28, 2005)--Betty Merchant has been named dean of the College of Education and Human Development at The University of Texas at San Antonio.
She served as interim dean of the college since August 2004, replacing Blandina "Bambi" Cardenas who left to become president of the University of Texas - Pan American.
---
Today's headlines
Article tools
---
"Betty Merchant stepped in during the past year and has done an amazing job in leading the College of Education and Human Development," said UTSA President Ricardo Romo. "Her enthusiasm and love for education is infectious. She has big plans for the college and wants to see UTSA researchers make a national impact that stretches well beyond the borders of our own community."
Merchant's vision for the college centers on collaboration between the community and UTSA researchers. The researchers and the community, she says, can tackle problems as equal partners.
"We want to be respectful of the people we work with and their expertise," says Merchant. "We want to ask, what are some of the questions you would like answered, what are the issues you face in the community, and how can we work together to find answers?"
Before pursuing a career in higher education, Merchant taught for 16 years in public schools, ranging from pre-school through high school and in tribe-controlled Native American schools in the Southwest. Her research has focused on educational policy, equity, student diversity, social justice and school leadership, with particular interest in diversity in education and multicultural, cross-national settings.
Merchant earned both her second master's degree and her doctoral degree in administration and policy analysis at Stanford University. She joined the UTSA faculty in 2000 after 11 years as a faculty member at the University of Illinois, Urbana-Champaign.
Merchant has authored numerous journal articles and several book chapters. She also co-edited the book "Multiple and Intersecting Identities in Qualitative Research" (Merchant and Willis, 2000), which explores the issues associated with conducting qualitative research among ethnic and racial groups of which the researcher is a member. The book is used in graduate-level qualitative methodology courses in colleges and universities across the country.
The UTSA College of Education and Human Development prepares professionals for leadership in education and human development organizations serving diverse populations across their life span. Faculty engage in a broad and robust program of research and provide extensive service to the community, the university, their profession and the nation.