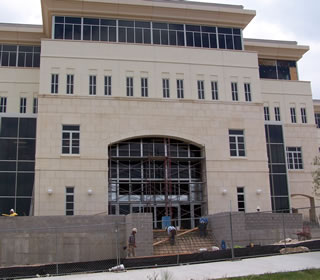 BSE Building construction site
BSE Building roadway project rescheduled
By Marianne McBride Lewis
Associate Director of Public Affairs
(June 28, 2005)--People working in and near the Biotechnology, Sciences and Engineering (BSE) Building construction site on the UTSA 1604 Campus began complaining of a heavy odor in the air at approximately 11 a.m. today.
---
Today's headlines
Article tools
---
Project Coordinator Rick Zamora from the Office of Facilities Planning and Development investigated and determined the cause of the odor was an oil-based road sealant being applied to the asphalt roadway around the new building.
The UTSA safety office has confirmed the odor is not harmful or a danger to health, only a nuisance.
Measures are being taken by the contractor to reduce the odor, and additional work will be rescheduled for a time when there are fewer people on campus.