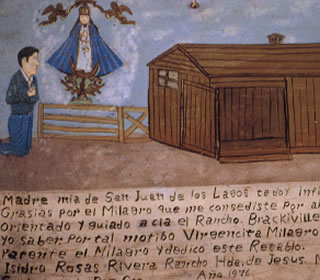 On exhibit at ITC: "Rancho Brackettville" (retablo)
UTSA's Institute of Texan Cultures presents Mexican American retablos exhibit
(June 3, 2005)--The Institute of Texan Cultures (ITC) presents "Miracles on the Border," a traveling exhibit featuring retablos from the Mexican Migration Institute in collaboration with Princeton University, through Sept. 18 in the ITC lower gallery.
Retablos and ex-votos are Mexican and Mexican American folk art paintings on copper or tin created by Mexican immigrants and their relatives. The paintings depict scenes of an event and represent a thank-you, miracle or supplication (prayer request) for a favor granted by a saint, the Virgen de Guadalupe, or El Sagrado Corazon (the Sacred Heart).
---
Today's headlines
Article tools
---
"The retablos reveal personal aspects of a person's character and faith along with distinctive forms of cultural expression," said Patricia Dunn, ITC educational specialist.
One of the 50 retablos on display features a hospital scene and a message, "While at work in Harlingen, Texas I contracted a grave illness of the left lung that was thought incurable. I offered to visit the Miraculous Little Virgin of San Juan de los Lagos and bring to Her this retablo as proof of gratitude for Her relief."
Admission is $7 for adults; $4 for children 3-12, seniors 65+ and military with I.D.; and free for children 2 years of age and younger. ITC hours are 10 a.m.-6 p.m., Tuesday-Saturday; noon-5 p.m., Sunday; and closed Monday.
For more information, call (210) 458-2330 or visit the Institute of Texan Cultures Web site.