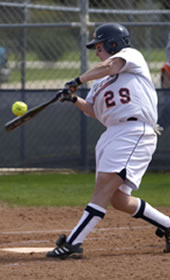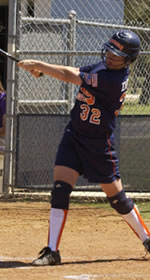 Jessica Rogers and Jennifer Davis
UTSA Roadrunners capture third straight NCAA softball home run title
(June 22, 2005)--The UTSA softball team has captured the NCAA home run title for the third consecutive year according to the final 2005 season statistics released last week by the NCAA office.
UTSA slugged 103 home runs in 60 games for an average of 1.72 home runs per game, beating out national champion Michigan, who also hit 103 longballs but did so in 72 games for a 1.43 average. The 103 round-trippers break the Southland Conference single-season record of 101 hit last year as the Roadrunners set an NCAA standard with a 1.87 average in 2004. In 2003, UTSA won its first home run crown with 80 homers in 55 games (1.45 average).
---
Today's headlines
Article tools
---
UTSA also now has two of the five 100-plus home run seasons on NCAA record along with the 2001 Arizona team (126), the 1995 Arizona squad (100) and this year's Michigan club. The 1.72 average ranks third all-time behind UTSA's record 1.87 average in 2004 and Arizona's 1.83 mark in 2001. The Roadrunners have launched an amazing 284 homers in the past three seasons combined (1.68 per game).
In addition to the home run title, UTSA also posted the NCAA's top slugging percentage of .575, well ahead of Missouri's .544 mark. The Roadrunners finished second in two other offensive categories. UTSA shattered the school record for team batting average with a .335 mark, just .001 percentage point behind national leader Texas A&M's .336 average.
The Roadrunners also scored a school-record 377 runs in 60 games for a 6.28 scoring clip to rank second behind Southern's 6.67 mark. UTSA, the SLC regular season champions, posted a 42-18 record for a .700 winning percentage -- both school records -- to rank 35th nationally.
Individually, junior Jessica Rogers (Grand Prairie, Texas/South Grand Prairie High School) hit an SLC single-season record 23 home runs in 60 games for an NCAA-leading 0.38 average. Her 23 bombs ranked second behind the 26 (0.34 per game) hit by Stephanie Best of Central Florida and also stand tied for 14th on the all-time NCAA chart. Rogers also tied for second in runs batted in per game with an SLC-record 64 in 60 games for a 1.07 average.
Last year, Rogers was the nation's toughest batter to strike out with just four punchouts in 177 at-bats (44.3 average), while this year she ranked 20th with a 20.3 mark. She also appears 15th in slugging percentage (.783) and 64th in batting average (.384).
UTSA senior Jennifer Davis (Grand Prairie, Texas/South Grand Prairie HS) posted the nation's 36th-best batting average, a career-high .400 mark. UTSA junior Stacey Gillespie (Round Rock, Texas/Round Rock High School) was hit by the pitch 12 times in 58 games played for a 0.21 average, tied for 14th in the country.