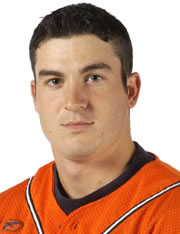 Jason Vecchio
UTSA baseball player selected by Cincinnati Reds
(June 7, 2005)--Jason Vecchio found out Tuesday afternoon that a mid-90s mph fastball just might be the ticket to a career in professional baseball. Vecchio, a junior right-hander on The University of Texas at San Antonio baseball team, was selected in the 16th round of the 2005 Major League Baseball first-year player draft by the Cincinnati Reds organization.
"It was a little surprising to be picked in the 16th round. I got called in the seventh and eighth rounds, but it wasn't until the 16th when I was picked. I am still excited though, and I like the Reds a lot," he said. "I didn't really care which team picked me."
---
Today's headlines
Article tools
---
Vecchio, a product of Pearland (Texas) High School, becomes the 12th Roadrunner player since 1994 to be drafted, with several other Roadrunners also in the professional ranks via free agent deals. With another day left in the draft tomorrow, UTSA head coach Sherman Corbett was happy to see interest in the Roadrunner program, which just recently competed in its first NCAA Regional since 1994, and looks for a few players names to pop up tomorrow.
"We are all definitely excited for Jason, and we'll see now what he decides to do. I think he was hoping maybe he would be drafted somewhere in the first 10 rounds or so," said Corbett. "It's nice to see that there is some interest in our players and our program, and hopefully we'll see a few more players drafted tomorrow."
Vecchio was the 12th pick of the 16th round and the 482nd overall pick as action in the draft concluded after the 18th round today. He becomes the fifth Roadrunner player selected by the Reds in the draft since 2000 and the seventh UTSA player to be drafted or signed by the Queen City team since 1994 when Paul Runyon signed as a free agent.
On the year, Vecchio produced a 2-4 record with a 6.14 ERA along with 29 punch-outs in 32.1 innings of work. He also tallied a team-high seven saves and now ranks third in career saves at UTSA.
Vecchio began the season as a starter, making three mound appearances in the first month as a starter, but he quickly found a role as the Roadrunners' closer. Entering his third year after spending the first two as a spot reliever, Vecchio recorded his first career save in March as the Roadrunners knocked off Oral Roberts in the Alamo City Irish Baseball Classic at Wolff Stadium.
He began the year with an 0-3 record but picked up his first win in a 11-10 comeback win at Texas State on March 25. He also picked up saves in conference wins over Louisiana-Monroe, Texas State, Sam Houston State and Nicholls State. In helping UTSA claim its first Southland Conference Tournament title since 1994, he recorded saves against Texas State and Lamar on consecutive days.