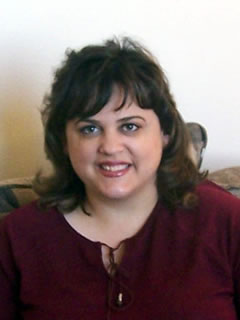 Margaret Bencomo
UTSA Profile: Margaret Bencomo, assistant director of UTSA counseling services
By Hector Benavides
Student Writer, UTSA College of Public Policy
(July 1, 2005)--Margaret Bencomo is assistant director of the UTSA Office of Counseling Services.
Counseling Services provides a variety of programs to help students cope with student and social life.
Bencomo came to UTSA in September 2002 after finishing her post doctoral training in substance abuse dual diagnosis treatment at the Houston Veterans Administration Center.
She earned a bachelor's degree in psychology at St. Mary's University, and master's and doctoral degrees in psychology at Indiana State University.
Bencomo started as a staff clinician at UTSA and was promoted nine months later to her current position.
For more information, visit the UTSA Office of Counseling Services Web site or call (210) 458-4140 at the 1604 Campus or (210) 458-2930 at the Downtown Campus.
---
Today's headlines
Article tools
---
------------------------------
HB: What are your duties as the assistant director of counseling services?
MB: I manage the clinic and the training and in-services of the staff. I also supervise the faculty and represent the department outside of the school when Dr. Elizabeth Stanczek is not able to do it. Dr. Stanczek is the official director of the department but she is also the executive director of health services, the women's resource center and the recovery center. She sometimes is too busy to fulfill all of her duties in the counseling department and it is my job to take over for her.
HB: What would you say to a student who is unsure about seeking help at counseling services?
MB: The first thing I would tell them is that they are not crazy if they need to have a talk with someone. Counseling is like any other assistance you would get. Also, what they discuss here is confidential and does not become part of their student record and no one can access the information without written consent from the student -- not even their parents.
HB: What are the goals that the department has for the near future?
MB: We are trying to firm up the serious incident prevention team for students that could harm themselves. We also want to find out what types of workshops the students would like to have here at UTSA. Also, we want students to be more familiar with our current programs. The programs that we now have are the anxiety group, the shy guy group and the women's resource center.
HB: Why did you decide to come to UTSA?
MB: It was a mixture of wanting to come back to San Antonio and being a part of a growing university. I also wanted to be able to work with an age group that could provide a challenge but that also has so much potential.
HB: What do you do to keep your mind off your work?
MB: This is very important to me because I believe that it is important to take care of yourself so that you can help others better. I try to keep my sense of humor and I like to spend time with my friends and go dancing and play volleyball. I also try to leave work at work so that it will not overwhelm me. I also like to talk about anything that might bother me, so that it will not stress me out.