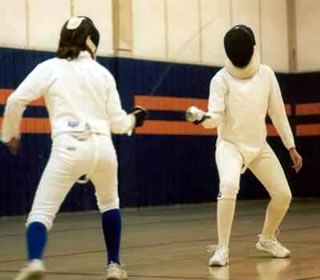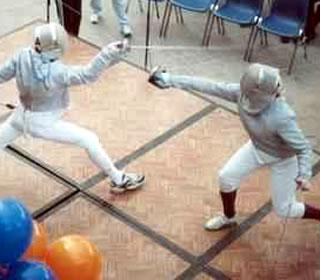 UTSA Club Fencing
UTSA student organization takes a stab at fencing competitions
By Bronwyn Wingo
Special Projects Writer, UTSA '05
(July 7, 2005)--Founded in 2002 with the name Swordplay@UTSA, UTSA Club Fencing has become a force in Texas collegiate fencing.
The student-run, coed team is one of several fencing clubs in South Texas, and despite the lack of a coach, members consistently perform well at foil and saber competitions conducted by the Southwest Intercollegiate Fencing Association (SWIFA).
---
Today's headlines
Article tools
---
The fencing club is hosted by UTSA Campus Recreation, which purchased equipment for the sport last year. The equipment includes fencing suits, helmet masks and an electronic scoring system. The suits wired with sensors are corded to a scoring box that records blows from a saber or foil.
Most of the members of UTSA Club Fencing are former students of Sara Price, who teaches foil and saber fencing at UTSA. Veteran club members train newcomers on the basics of fencing before separating into weapon-specific groups for practice.
"I like the challenge of foil," said fencing club president Chris Boney, a UTSA senior majoring in psychology and communication. "Other people might disagree with me, but I think it's harder than other styles because of the smaller target area and specific hitting style."
The team hopes to develop a stronger showing in epee, a third style of fencing not covered in the UTSA class.
Recently, some of the team members moved into the more competitive United States Fencing Association (USFA) circuit, which organizes competitions throughout Texas every weekend. USFA fencers are ranked for national competition with top athletes holding Olympic-level rankings.
Boney, who is ranked a D2005 in foil, will travel with fellow teammate Adam Brewer, who holds an E2005 ranking in saber, to the USFA national championships in Sacramento, Ca., this year.
The team has applied for varsity status, but with no other universities in the area with varsity teams, competition could prove difficult. "We know there are other schools interested in going varsity, but we haven't heard much about their progress in getting varsity status," Boney said. "Right now, the nearest NCAA team is in North Carolina, so it really wouldn't be practical."
As one of the most affordable fencing clubs in South Texas, UTSA Club Fencing is seeking sponsors to help with the cost of sending members to competitions.
"The club provides everything members need for practice and competition," said Boney, "Sponsors would really help us take care of some of the costs."
With finishes like first place in foil and second place in saber at the last SWIFA competition, UTSA Club Fencing has a head start at proving its mettle... and metal.
For more information about UTSA Club Fencing, e-mail Chris Boney or visit the UTSA Club Fencing Web site.
For more information about UTSA Campus Recreation, contact Laura Munroe at (210) 458-7566.