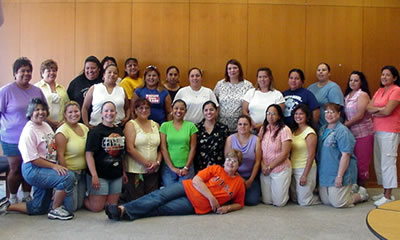 UTSA Head Start Summer Institute participants
Texas teachers attend UTSA Head Start Summer Institute
By Tina Luther
Public Affairs Specialist
(July 22, 2005)--More than 50 South Texas Head Start teachers worked toward their bachelor's degrees this summer at the UTSA Head Start Summer Institute. The teachers were presented with certificates July 14 to honor their completion of the program.
Harriett Romo, UTSA associate professor of sociology, founded the three-week summer program four years ago for Head Start teachers and staff who are required to earn their degrees as mandated by the No Child Left Behind Act. Head Start is a federally funded program, which provides learning development for low-income children from birth to five years of age.
---
Today's headlines
Article tools
---
The program, books and student housing are provided free-of-charge to participants, many of whom are minority, low-income, single parents. The curriculum includes early childhood and Mexican-American studies.
"Most of us are working mothers, so it's difficult to go during the school year," said Lorena Tapia, a student who has earned 33 hours from the institute. "Getting 12 hours in during the summer at no cost is amazing."
Tapia will graduate this year with a bachelor's degree in Mexican-American studies.
The institute also presents opportunities to network with other teachers and university faculty members.
"This gives us the opportunity to grow," said San Antonio teacher Yolanda Nava. "I think this is a very great program and the continuation of its funding should seriously be looked into, not only for us who are here, but for others so that they may be exposed to what this agency has offered to us."
For more information, contact the UTSA Head Start Summer Institute at (210) 458-2692.