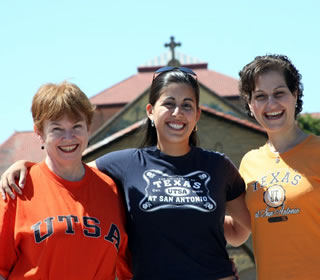 From left, Associate Professor Harriett Romo and students
Christy Granada and Maria Rodriguez
UTSA professor, students participate in Stanford University workshop on learning
By Tim Brownlee
Assistant Director of Public Affairs
(July 21, 2005)--Harriett Romo, UTSA associate professor of sociology, and UTSA sociology graduate students Christy Granada and Maria Rodriguez are attending a workshop on interactional design and learning this week at Stanford University.
Romo and the students are participating in the workshop as part of the Learning in Formal and Informal Environments (LIFE) project, funded by the National Science Foundation (NSF).
---
Today's headlines
Article tools
---
The UTSA group is working with teams from Sweden, Norway, China and other universities in Virginia, Mississippi and Tennessee to design media approaches to teach adults and children about second-language learning, living healthier lifestyles, playing music and building a house. The teams will present their projects to Stanford professors.
Last year, NSF awarded a $25 million grant to researchers at the Stanford University Center for Innovations in Learning, the University of Washington and SRI International, a nonprofit research institute based in Menlo Park, Calif., to advance the scientific understanding and practices of learning.
Researchers involved in the collaborative effort, called the LIFE Center, are synthesizing theories and methodologies of neuroscience, psychology, education and technology to study how people learn. Research will include studies on topics ranging from early social and language development to K-12 and post-graduate learning in mathematics, science, technology and engineering.
Across LIFE's three institutions, more than 40 faculty and senior researchers are involved in the extensive research in developmental, cognitive and social neuroscience, communications, the learning sciences, psychology, education and computer science.