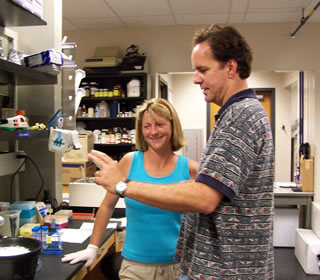 Top photo: Karl Klose, UTSA biology professor, works with
UT Brownsville student Felicia Farquhar. Lower photo:
Students learn about graduate school opportunities.
UTSA, UTHSC co-sponsor summer mentorship program
By Kris Rodriguez
Public Affairs Specialist
(July 15, 2005)--Faculty members at The University of Texas at San Antonio and the University of Texas Health Science Center at San Antonio are partnering this summer in a program designed to increase enrollment in science and engineering graduate programs at both institutions.
For two-and-a-half months, faculty from UTSA and UTHSC will open their research laboratories to 11 undergraduate students to provide research experience and professional mentoring with the intention of increasing the number of well-prepared students from the area entering careers in research.
---
Today's headlines
Article tools
---
The UTSA/UTHSC Summer Mentorship Program allows students to develop their interests in laboratory science and to master sophisticated research techniques that will be necessary for their success in graduate education in a rigorous research environment. The students represent UTSA, the University of Texas at Austin, the University of Texas at Brownsville, Texas Lutheran University, Texas A&M University, Baylor University, Texas Tech University, Louisiana Tech University and the University of the Virgin Islands.
"We think this pilot program will help promising students prepare to be competitive when enrolling in graduate programs," said Dorothy Flannagan, dean of the UTSA Graduate School. "We also want to promote our graduate programs, and we hope these students will return to their universities and speak about the research experiences they received at both our institutions."
"Our graduate programs in science and engineering in San Antonio must develop aggressive recruiting methods to attract the best and the brightest undergraduates from regional colleges and universities to our master's and doctoral programs," said Merle S. Olson, dean of the Graduate School of Biomedical Sciences at the Health Science Center. "The major research universities and private sector research entities in Texas depend upon our training programs to produce well-educated scientists and engineers to enable solutions to the most complex and economically interesting issues in the biosciences."
In addition to the laboratory research experience and one-on-one mentoring, students will tour several scientific research facilities in San Antonio. The tours will expose the students to a variety of research venues and offer students opportunities to observe how fundamental scientific research can lead to practical solutions to health problems and commercial product development.