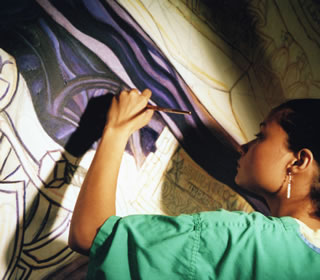 Top photo: Student works on painting designed by Alex Rubio
Lower photo: Alex Rubio works with students in gallery
UTSA students work with nine artists on wall painting exhibit
By Tim Brownlee
Assistant Director of Public Affairs
(July 20, 2005)--UTSA students in AHC 6833 Art Gallery and Museum Practices, taught by Frances Colpitt, UTSA professor of art history and criticism, are working with nine artists this summer to prepare for the "Wall Painting" exhibit. The show runs Sept. 1-Oct. 16 in the UTSA art gallery at the 1604 Campus.
The artists, who do stand-alone paintings, also are known for painting directly on the wall. Students in the graduate course are working alongside the invited artists to assist in the execution of the works. Conceived as a painting show without canvases or frames, the exhibition will be accompanied by a catalog and DVD documenting the creation process of the artwork which is greatly varied in style.
---
Today's headlines
Article tools
---
According to Colpitt, "Wall Painting" will present outstanding works of art by nationally recognized artists to provide the UTSA community, San Antonio and South Texas an opportunity to experience and learn about contemporary painting as well as the historical tradition of mural painting, which is related to the contemporary tradition of wall painting.
Murals are traditionally political in nature; Mexican mural paintings of the 1920s are examples of the genre. Wall painting, which is popular in Europe, can include any theme or style.
Students worked the last several weeks in the UTSA gallery on a giant painting by San Antonio artist Alex Rubio. Rubio created his colorful work on a small canvas and placed a grid over it to guide the students in transferring it to the wall in a much larger format.
For the remaining pieces in the exhibit, the students will work with eight other artists from around the country including Bernard Brunon (Houston), Jane Callister (Santa Barbara, Calif.), Francesca Fuchs (Houston), Yunhee Min (Los Angeles), Jim Osman (New York), Aaron Parazette (Houston), Keith Sklar (New Haven, Conn.) and Monique Van Genderen (Los Angeles).
Colpitt wrote a grant for the exhibit, which was funded by the Elizabeth Firestone Graham Foundation, an Albuquerque, N.M., organization that supports the arts and education.
For more information, call (210) 458-4352.