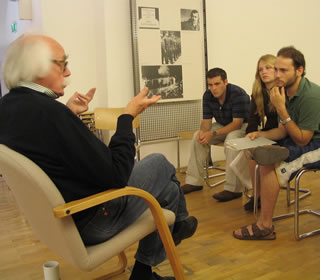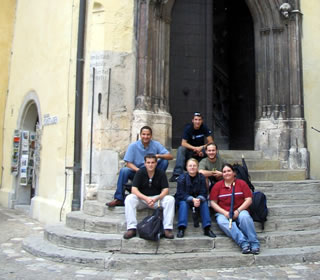 Top photo: UTSA students talk with Holocaust survivor F.J. Muller
in Germany; Middle photo: Students at town hall in Germany;
Lower photo: Roadrunner spirit in Munich.
UTSA international studies program expands as students build intercultural skills
By Bronwyn Wingo
Special Projects Writer, UTSA '05
(July 1, 2005)--The UTSA Office of International Programs has experienced a significant increase in students participating in study abroad and exchange programs. In the 2003-2004 academic year, 57 students participated in the programs; in 2004-2005, there was a 150 percent increase in enrollment with 145 students in international studies programs.
---
Today's headlines
Article tools
---
Students have a lot to gain from studying abroad. A survey published last year by the Institute for the International Education of Students found that most students participating in study abroad and exchange programs reported increased self-confidence, increased maturity and enhanced interest in academic study. Students also reported significant benefits to their intercultural knowledge and career development.
The faculty-led study abroad programs offer students the opportunity to immerse themselves in the culture of another country for two to three weeks. "It is a very positive experience for students," said Christopher Wickham, associate dean for student affairs in the UTSA College of Liberal and Fine Arts, who has led several study abroad programs to Munich and neighboring cities.
Wickham works to incorporate both artistic and educational curtural elements into the trips, giving students a well-rounded experience. "What students learn is that there is so much more to discover," he said. He will lead his next UTSA trip to Munich in 2007 as part of an intensive six-week Honors College summer session German course.
Roberto Rodriguez, lecturer in the Department of Modern Languages and Literatures, says students in his faculty-led program to Spain have a similar experience.
"We were only three days into the trip when everyone was saying it had far exceeded anything they expected," Rodriguez said of his 2004 class. His study tour of Spain focuses on regional architecture and cuisine. "Just watching their faces and sharing in their experience means a lot to me," he said. Rodriguez' next trip to Spain is planned for 2006.
Blaire Wizbicki, a UTSA senior majoring in art history, recently spent a semester in New Zealand. "Living in another country really helps you appreciate the things here you take for granted every day," she said. "A semester of courses abroad had a big impact on my perspective."
Wizbicki traveled to New Zealand through the affiliated study abroad program, Australearn. Affiliated programs specialize in preparing students for study abroad and provide information on choosing appropriate accommodations, budgeting for a trip to another country, and planning social and recreational activities.
"They [Australearn] do a good job of making sure you have everything you need to plan the type of experience you'd like to have while studying," she said. "I was able to live with another girl participating in the program off-campus in a house with a couple of locals, which helped me to experience so much more of the culture."
Wizbicki, like many others participating in study abroad programs, plans to travel to other countries.
The Office of International Programs also coordinates exchange, faculty-led and affiliated study abroad programs. To help process the increasing number of requests for study-abroad opportunities, UTSA has implemented a streamlined approval process for faculty-led programs.
The new procedure gives faculty a framework for covering all the details in putting together a study abroad program, according to James McDonald, chair of the UTSA Department of Anthropology and the Council on International Programs. McDonald plans to develop a faculty-led study abroad program to San Miguel, Mexico, where he participated in an exchange program several years ago.
The new process, modeled after the system used at the University of Texas at Austin, has been successful on their campus and covers the critical details common to study abroad programs. "It's not like we're reinventing the wheel," McDonald said. "It's been tested. It's a really good group of people [at UT Austin] and they've worked very hard to get a handle on all their international programs."
The Office of International Programs offers exchange programs to Australia, Canada, England, China and Japan. UTSA established an international exchange agreement this semester with Nagoya University of Foreign Studies in Nagoya, Japan. UTSA also offers affiliated study abroad opportunities that are coordinated and managed by external organizations.
For more information on UTSA study abroad programs, contact the Office of International Programs at (210) 458-7204.