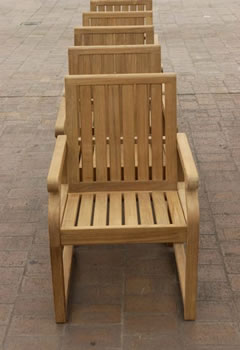 New chairs at Sombrilla Plaza
(Photos by Mark McClendon)
UTSA recognizes new chairs... on Sombrilla Plaza
By Tim Brownlee
Assistant Director of Public Affairs
(Aug. 16, 2005)--UTSA facilities services staff members were busy Tuesday assembling 80 new tables and 320 new chairs for the Sombrilla Plaza at the 1604 Campus.
---
Today's headlines
Article tools
---
As the completed chairs and tables were lined up, it looked like a healthy new crop in a field of furniture -- which will be utilized frequently this week as students return to the university.
It's safe to say about the tables and chairs, "If we build them, they will come," since more than 26,000 students will be at the UTSA campuses during Roadrunner Days, Aug. 19-25, the official UTSA kickoff for the new school year.