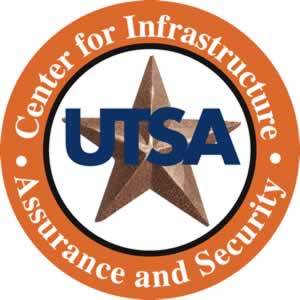 UTSA to host national cyber security conference
By Kris Rodriguez
Public Affairs Specialist
(Aug. 4, 2005)--The UTSA Center for Infrastructure Assurance and Security (CIAS) will host the first annual National Conference for the Protection of American Communities (NCPAC) Aug. 17-18 at the Sheraton Gunter Hotel in downtown San Antonio.
The conference will feature presentations on technology and services in government and industry necessary for the protection of communities. More than 120 participants from across the nation and U.S. territories are expected to attend workshops focusing on problem-solving methods for current physical and cyber security issues and ways to develop and conduct community cyber security exercises. Other workshops will address legal issues associated with cyber security and terrorism including weapons of mass destruction, bioterrorism and applicable legal statutes to support law enforcement.
Scheduled speakers include Liz DiGregorio, acting director of the Office of Community Preparedness for the Department of Homeland Security, and Suzanne Gorman, managing director of Corporate Information Security for the Securities Industry Automation Corporation, whose office is responsible for critical components of the U.S. financial infrastructure including the New York and American stock exchanges. San Antonio City Councilman Art Hall is the luncheon keynote speaker for the event.
---
Today's headlines
Article tools
---
Other confirmed speakers include Frank Chimits, FBI Joint Terrorism Task Force; Steve McCraw, Texas director of Homeland Security; Lawson Magruder, retired Army lieutenant general and executive director of the UTSA Institute for the Protection of American Communities; Maj. Gen. Paul Lebras, commander of the Air Intelligence Agency and Joint Information Operations Center; Richard Jacques, program manager of the Homeland Security Operation Center for the U.S. Department of Homeland Security; Steve Schuetz, branch manager of the Office of Domestic Preparedness for the U.S. Department of Homeland Security; and Texas Rep. Frank Corte.
CIAS is part of UTSA's newly created Institute for the Protection of American Communities (IPAC), established to provide technical expertise and solutions to security challenges faced by communities.
UTSA is the first Texas university and one of 66 in the nation with the "Center for Academic Excellence in Information Assurance Education" designation by the National Security Agency (NSA). The designation means UTSA's curriculum and faculty meet or exceed NSA standards to teach information-assurance security and makes the university eligible to apply for grants from NSA and the National Science Foundation.
Along with the conference, CIAS will host the National Security Agency's (NSA) INFOSEC Assessment Methodology (IAM) and INFOSEC Evaluation Methodology (IEM) certification and training courses.
The conference is sponsored by the Institute for the Protection of American Communities, St. Mary's Law School Center for Terrorism Law, the Information Systems Security Association and Infragard.
The two-day conference costs $350 per person. Discount registration is available for government employees, ISSA members, Infragard members and UTSA faculty, staff and students. For more information, call (210) 458-6302 or visit the CIAS Web site.