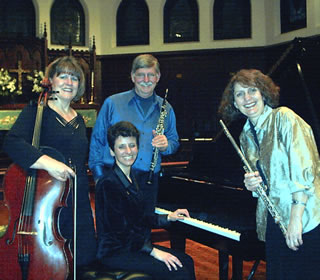 Hemisphere Quartet
UTSA Department of Music presents Hemisphere Quartet Aug. 29
By Tim Brownlee
Assistant Director of Public Affairs
(Aug. 26, 2005)--The UTSA Department of Music presents the Hemisphere Quartet in a chamber music concert at 7:30 p.m., Monday, Aug. 29 in the UTSA Recital Hall, 1604 Campus. Admission is $5 and free to students with a UTSACard.
The Hemisphere Quartet features Rita Linard, flute; David Herbert, oboe; Judith VanderWeg, cello; and Christine Debus, piano.
---
Today's headlines
Article tools
---
The quartet recently returned from a five-concert engagement with the Ensemble Roxane in the Bergerac region in southwest France.
Their programs included music from the 17th century baroque period to the present featuring the world premiere of "Les Quatre Coins" by UTSA composer James Scott Balentine.
"Les Quatre Coins" was commissioned for the Hemisphere Quartet's tour of France with each of the four movements dedicated to one of the musicians. Quartet members are current or former UTSA faculty members.
For more information, contact Rita Linard at (210) 458-5684.
------------------------------
Concert selections
"Trio Sonata in D Minor" by G.F. Telemann
For flute, oboe, cello, and piano
"Dream Dances" by Peter Schickele
For flute, oboe, and cello
"Episodes" by David Ashley White
For oboe and piano
"Le Grand Tango" by Astor Piazzolla
For cello and piano
"Suite Antique" by John Rutter
For flute and piano
"Guillaume Tell-Duo Brilliante" by Demersseman
For flute, oboe and piano
"Les Quatre Coins" by James Scott Balentine
For flute, oboe, cello, and piano