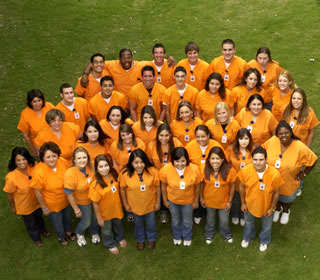 Orientation leaders
Passionate about UTSA? Apply for student position with orientation services
By Tim Brownlee
Assistant Director of Public Affairs
(Aug. 29, 2005)--The UTSA Office of Orientation and Transition Services (OTS) recently completed orientation programs to welcome students for the fall semester.
OTS provides orientation sessions and Roadrunner Camp for new students and their families in order to smooth the transition into college life.
---
Today's headlines
Article tools
---
"The 2005 orientation programs were a success because of the collaboration and participation of UTSA offices and department, and the unwavering support of the OTS staff members including student staff," said Paul Ayala, 2004-2005 OTS student coordinator.
OTS is accepting applications for paid student positions on the 2005-2006 orientation team for student coordinator, team leaders and orientation leaders. Successful applicants are highly motivated, energetic students who have a deep passion for UTSA. Each selected applicant will participate in a group interview and a one-on-one interview.
Applications will be available at an information table at the breezeway between the University Center and the Humanities and Social Sciences Building, 1604 Campus, from 10 a.m. to 2 p.m., Sept. 6-8 and Sept. 13-15.
The application deadline is 4 p.m., Sept. 29, 2005.
For more information, visit to the Orientation and Transition Services Web site or go to the Office of Orientation and Transition Services, University Center Room 1.00.40 at the 1604 Campus. At the Downtown Campus, go to the Advising Center, Buena Vista Street Building Room 1.304 or the Office of Student Activities, Durango Building Room 1.302.